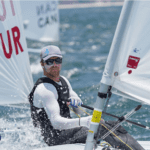 The Virgin Islands Sailing Association (VISA) has awarded Cy Thompson, two-time Olympic Laser sailor, the coveted title of 'Virgin Islands Sailor of the Year' for 2016.
Ground Strokes Tennis Club has adopted four elementary schools and one junior high School in 2017, offering children club scholarships to expose them to tennis.
Registration is now open for the International Optimist Regatta (IOR), presented by EMS (Electronic Merchant Systems) Virgin Islands at www.regattanetwork.com. Scheduled for June 16-18, the regatta will kick off with the TOTE Maritime Clinic, June 12-14 and TOTE Maritime Team Race, June 15.
Tryouts for U.S. Virgin Islands Volleyball Federation Junior and Under 23 National Teams will be held as follows
The Virgin Islands Tennis Association (VITA) will begin a Junior Team Tennis League in the U.S. Virgin Islands, Feb. 4.
The St. Croix Small Fry All Stars Basketball team recently returned from Guaynabo, Puerto Rico, capping off a successful weekend when they placed second in the 2017 Puerto Rico Small Fry Invitational Tournament held from Jan. 13-16.
The one thing for certain about a race with just a handful of participants is that the chance of winning a medal increases greatly, as it was the day of the Crucian Christmas Festival Children's Parade.
V.I. National Track and Field Team member Eduardo Garcia continues his smooth transition from college to professional road running with an impressive performance at the Naples Half-Marathon in South Florida on Sunday morning of a strong second place finish in 1:06.02.
The running of the 35th Annual 3 Kings Mile gets the adrenalin flowing for every participant no matter how many show up for the run that kicks off the Crucian Christmas Festival Adult Parade.
Over a half-dozen V.I. college student athletes have either begun their indoor track and field season or are anticipating doing so soon. They represent the next generation of V.I. track and field Olympians.