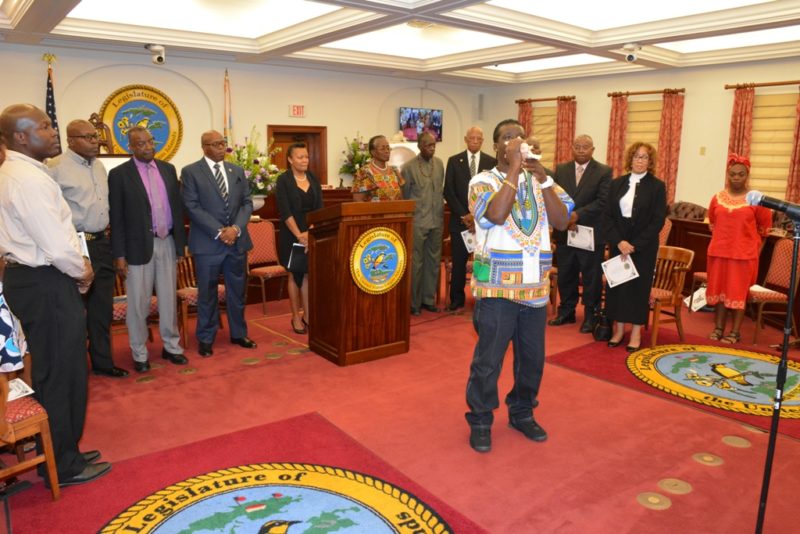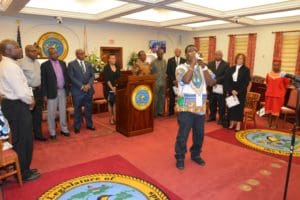 Members of the 32nd Legislature, led by Senate President Myron Jackson, hosted "Reflections" a memorial dedicated to honoring Bingley G. Richardson, president of the 20th Legislature, who died May 27 at the age of 81.
"There is an African Proverb that says when an old man dies, a library burns to the ground," said Sen. Jackson at the event held Thursday at the Capitol building. "Richardson was a civil rights activist, policymaker, businessman, griot, mariner, pan-Africanist, father and a family man. Sen. Richardson epitomized the best you can ask of a native son. He was a fearless leader who loved people dearly. He dedicated his life to the upliftment of his race."
Glen "Kwabena" Davis also shared reflections.
"When Richardson saw that the carnival was moving away from Virgin Islands culture and imitating the carnival in Trinidad, he inspired the troupes to have themes that represent the Territory," said Davis. "Bingley instituted that carnival in the Virgin Islands showcase and highlight our culture, our people and our daily experiences because we have a lot to offer."
Marcella Jennings said Bingley was best known as a sober and serious man.
"His principles and character was inspired by the late Marcus Garvey, Jennings said. "I wanted to note that Bingley's leadership was fair and he was a good man."
Jason Meade opened the memorial by blowing the conch shell. The Rev. Vickki Parris gave the invocation and benediction and the New Beginning Christian Fellowship sang the National Anthem. Gylchris Sprauve sang the Virgin Islands March and Detra Davis sang the Black National Anthem.
Several musical selections were presented by Lorna Freeman and remarks were given by senators.
"Bingley Richardson made a big impact on all of us," Sen. Brian Smith said. "He was a different man who carried himself with pride and distinction. He walked and talked differently. When Bingley spoke, everyone listened."
"I did not have a personal relationship with Bingley Richardson. However, I thank him for impacting my life in two ways," said Sen. Tregenza Roach. "One, Bingley raised community awareness and African consciousness to who we are as a people. Secondly, his outstanding commitment and courage to protect the natural resources of the Virgin Islands."
Richardson will lie in state for public viewing from 4 to 7 p.m. Friday at the Capitol Building in the Earle B. Ottley Legislative Hall. The funeral service will be held at 10 a.m. Saturday at the Christ Methodist Church at Market Square. Interment will be at the Western Cemetery No. 3.