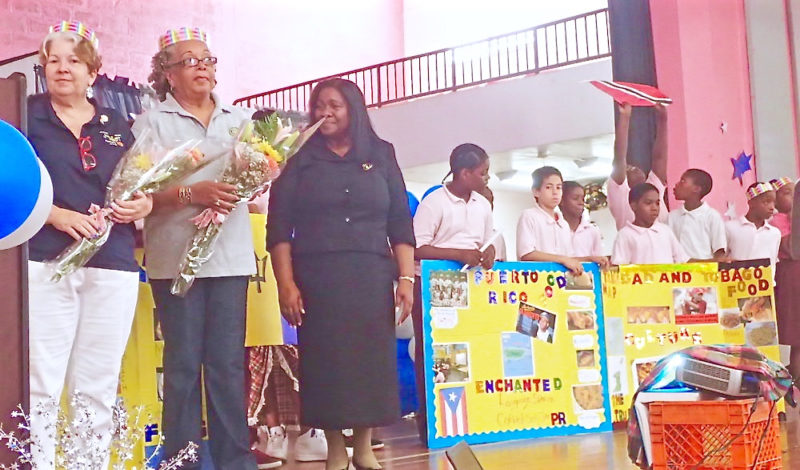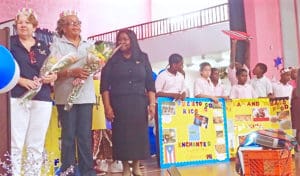 Fifth and sixth graders at Juanita Gardine Elementary School, members the EarlyAct Club, shared with the student body facts about the cultures of nearby islands Thursday, during the closing ceremony of the Rotary of St. Croix's weekly program.
Rotary International's EarlyAct program promotes leadership, responsibility, caring, tolerance and other virtues. It focuses on awareness of the community and the world, Rotary President Sandra Gerard-Leung said.
EarlyActors at Gardine participated in three projects during the school year. They met during lunch hour once a week with various Rotarians teaching and working with students.
Several of the leadership sessions were conducted by H. Mark McGibbon, president and chief executive officer of the V.I. Next Generation Network. He said he was "honored" to lead the workshops and hopes to be twice as active next year. McGibbon, in addition to being one of the territory's top executives, has taught thousands of college students at various colleges, including the National Defense University. He holds two doctorates, two master's degrees, 15 graduate certificates and is a Harvard University senior executive fellow.
The EarlyActors clearly admired and respected McGibbon and presented him with a plaque, accompanied by hugs and handshakes.
The projects included a food drive for Haiti to learn about the community, planting fruit trees at the school and presenting their International Understanding projects during lunch Thursday.
Four groups of students displayed posters, performed skits and danced to share what they had learned about neighboring countries – Barbados, Trinidad and Tobago, Dominica and the U.S. Territory of Puerto Rico. Each group researched national dishes, history, and the natural resources of each location and talked about well-known residents.
The audience giggled when students performed national dances, and clapped at each production.
During the lunchtime wrap-up, Ameer Normon, 6th grade, was recognized for his short story that was included in "Butterfly Storybook," a soft cover book published by Rotary's E-Club of the Caribbean. Gerard-Leung read the story about the "good fruit" found in the "juju forest."
Gerard-Leung said that Rotary St. Croix adopted Gardine school in 2015 and school administrators requested a new program. When EarlyAct was introduced, the students were enthusiastic and the program has been a "mind boggling" success.