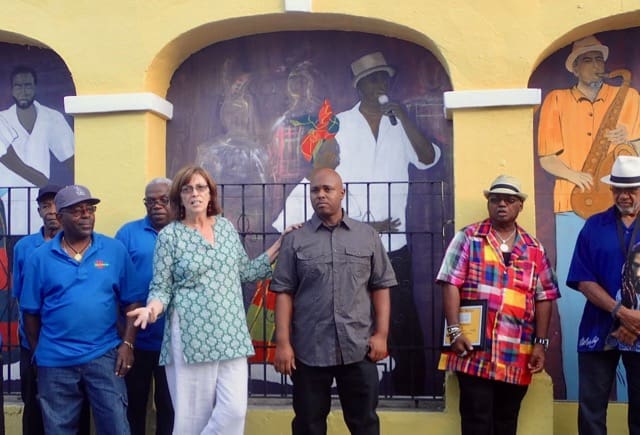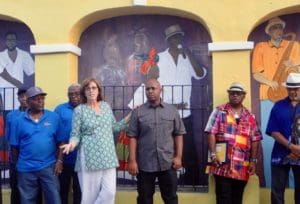 Company Street closed down Friday night for a block party to celebrate the installation of a multi-panel art project to commemorate St. Croix's music and dance culture – a tribute to Stanley and the Ten Sleepless Knights and the St. Croix Heritage Dancers.
Artist Lucien Downs and Mary Dema, of the Christiansted Alliance, conceived the idea a year and a half ago to beautify a front of a crumbling building on Company Street. Over the last few weeks, Downs and assistants Donna Prock and Larry Safady painted larger-than-life size images of the familiar musicians and quadrille dancers.
The building was painted bright yellow by the St. Croix Lions Club, whose president is Lucien Downs Sr., the artist's father, to frame the artwork. Several private and corporate donors underwrote the project, including John Dema, attorney Joel Holt and Michael Ross of Zion Modern Kitchen.
More panels will be added next week to complete the project, Downs said, and the art will wrap around the corner of the building.
After Dema introduced and thanked the artist, musicians and dancers, the party moved down the street to the Shan Hendrick's Vegetable Market where the Knights played lively quelbe and Bradley Christian called out the steps for the Heritage Dancers' quadrille.
"It is a tribute to these two icons – Stanley and Bradley Christian," Dema said.