The dozen parents who met with Education Department officials at Alfredo Andrews Elementary on Friday night seemed pretty satisfied with what they heard concerning problems this week at the school.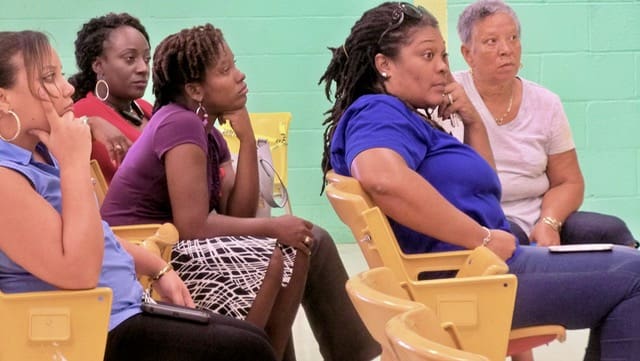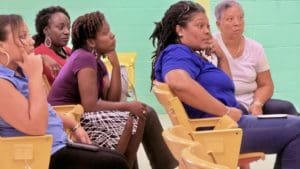 Nicole Grossman, parent of a fourth-grader, told the Source, "Based on what they say they did and, if they actually did those things, I am very satisfied."
The meeting was held in what is probably the cleanest cafetorium in the territory now. The walls almost sparkled.
Dean Andrews, Department of Labor director of OSHA, said a vent was broken by high winds Tuesday night and consequently allowed foreign materials to enter the cafetorium. "It all happened right here and it was contained," he said.
Vaughn Hewitt, deputy superintendent, explained what the education employees did after the mishap. He said the vent was secured as soon as it was determined that it had allowed material to enter the building. The vent was vacuumed as were its ducts. A professional cleaning crew was called in. The floor was mopped and the walls were wiped down. Even the ceiling was washed.
After OSHA was called in and it did a safety inspection and, after some employees and students complained of rashes, Andrews decided that a health inspection was also warranted. The health inspection requires the gathering of some samples and will be completed in the near future.
Andrews told the parents that the safety inspection showed no problems.
Colleen Mae Williams, insular superintendent of the St. Croix district, went over day-by-day what the school's response was.
She said that on Wednesday classes were dismissed early when there were complaints of noxious particles in the air at the school. On Thursday, some students and school employees complained of itching eyes, skin and throats. School officials told them to go home. She said, "We had a pretty good day" Friday.
When asked if the number of students at the school was down, Williams did say attendance was low.
Sen. Alicia "Chucky" Hansen visited the school Thursday and said in a press release that she was grateful to Williams for her quick response. her transparency and her willingness to assist during Hansen's visit. The St. Croix senator added that the "Department of Education responded in a proactive way when notified of the matter, and the Superintendent had called on inspectors, as well as private companies, to clean up the school."
One parent asked, "When we send our children to school Monday morning, can we believe all is good?"
Williams answered, "Yes."