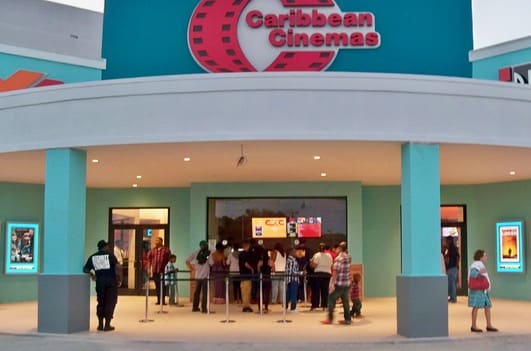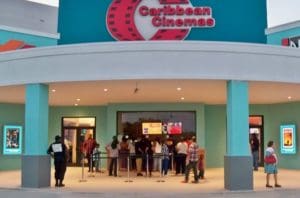 St. Croix movie lovers can now enjoy the latest in theater enhancements as Caribbean Cinema moved into a new building in the Sunny Isle Annex after the company closed its old six-screen complex in Sunny Isle Shopping Center.
Around 400 residents saw movies in the new theater Thursday night – La La Land, Logan or Kong: Skull Island – in a gala for invited guests.
Gov. Kenneth Mapp attended. Also present were the owners of Caribbean Cinemas – brother and sister Lorraine Quinn and Robert Carady from Puerto Rico.
The crowd on Friday night for the public opening was probably even larger as the parking was near full before the first movie started and lines at the lobby café were long.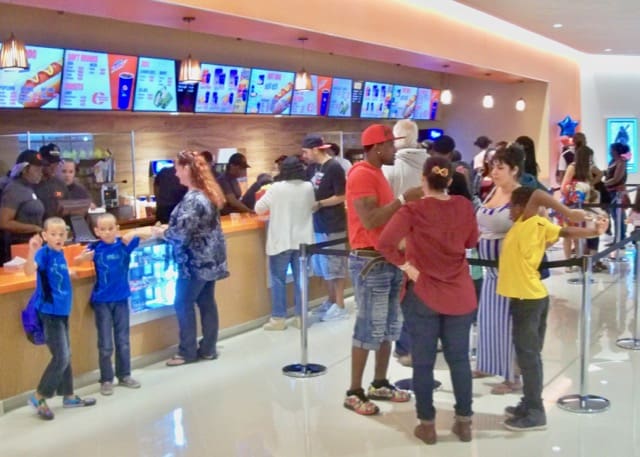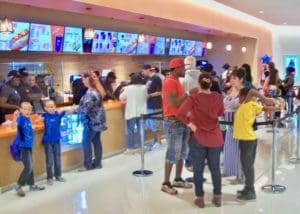 According to a press release, "the state-of-the-art movie theater features Hollywood's newest films on its eight luxurious stadium seating auditoriums with screens fully equipped with 100 percent digital projection, 3D technology, high-definition surround sound."
The spacious lobby of the self-standing cinema building also has a game room with video games, two party rooms, as well as a Deli Café serving sandwiches and wraps and, when the kitchen is complete next week, they will serve hot foods like tacos and burgers. Patrons will also be able to purchase wine and beer. There is also a 200-space parking lot.
Steven Diaz, area manager for Caribbean Cinema, told the Source that total sitting capacity at the theater is 1,230. The stadium seating has leatherette and fabric upholstered seats, he said Friday, and a new audio format for creating and playing back multichannel movie soundtracks. Diaz said there are 52 speakers, two 3D screens, and devices for people who are visually or hearing impaired.
Donna Browne is the general manager and daughter of the late David Browne, owner of the original theater at Sunny Isle, and will be overseeing the 20 new people hired.
The theater's first public viewing time was at 6:25 p.m. Friday.
The old theater at Sunny Isle will be made into doctor's offices, according to Diaz.
The general contractor for the building was Breunlin Construction from St. Thomas. Diaz said the cost of construction was more than $10 million.
Besides the theaters on St. Croix and St. Thomas, Caribbean Cinemas have 31 theaters on Puerto Rico and a couple dozen other theaters throughout the Caribbean.
Special reserved seating and general admission tickets to the new St. Croix theater may be purchased on line at www.caribbeancinema/stcroix.com.