St. Croix's month of Christmas festivities gets going this weekend with the annual boat parade in Christiansted harbor, with Crucian Christmas Carnival competitions, fairs, parades and tramps all month after that.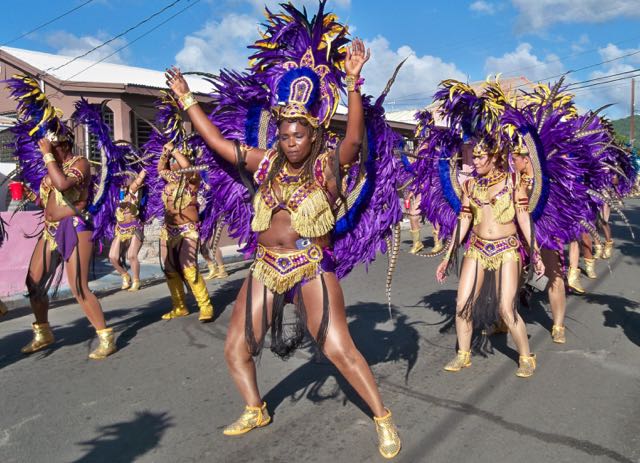 "The centennial is a once in a lifetime occurrence," said Melody Rames, public relations officer with the Crucian Carnival Committee. So the committee is weaving that idea throughout the festivities.
"This year, we are combining the three pageants into one event with a centennial theme," Rames said. All the royalty and all the contest winners will be getting centennial crowns.
It's not just a celebration of history and culture, but also a big economic engine. The celebrations are some of the biggest attractions for visitors to the territory.
Many who are from the Virgin Islands but now live elsewhere come home for the holidays. "Those who come home are tourists too, while they are here," Rames said. Hotels are full, car rental agencies lease out all their cars, restaurants see lots of customers and stores sell more groceries to feed everyone.
The hugely popular St. Croix Boat Parade, with its gaily lit vessels and wildly enthusiastic crowds, is not to be missed. Festivities will begin at noon Saturday in Christiansted on the boardwalk and the parade will start around 6 p.m. and end with a spectacular fireworks display. That event is put on by Christiansted retailers and, while not a part of the official Carnival calendar, has become an annual extravaganza attended by thousands of residents and holiday visitors
Entertainment starts with the Ebenezer Steel Pan Band, a group of students on steel pans. Entertainment on the boardwalk will be provided by Willard John, Moko Jumbies and Christmas carolers.
This year's highlights include Lazo performing at the Comanche Mill at 4 p.m. Lazo is one of the original Wailers who played with Bob Marley's band and now travels the world playing Bob Marley's well-known hits, according to the parade organizers.
Just before sunset, a hang glider will soar 1,200 feet above the harbor. Then a team of stand up paddleboarders, dressed as Rudolph and eight tiny reindeer leading Santa Claus, will start the Christmas flotilla.
Twenty-three boats decorated with lights have signed up this year, ranging in size from 16 to 68 feet in length. The boat owners have each beautifully decorated their boats at their own expense, out of love and respect for the Christmas Season.
While the event is free, VIP tickets will be available for $50/person, permitting entry to an exclusive viewing area between the Caravelle Hotel and the Holger Dansk with catering, a cash bar and port-a-potties. Tickets may be purchased from Mary Sluss, (340) 513-4286.
One week later, the Crucian Christmas Festival kicks into high gear, crowing the Crucian Centennial Royalty on Dec. 18 at the Island Center for the Performing Arts.
The centennial queen, prince, princess and duchess will be crowned in one show, with R&B singer Mario performing. Tickets are available at the door and are $15 for adults and $12 for children 11 and younger.
After midnight on Dec. 23 and 24, WTJX is holding its annual "Foreday Serenade," with Stanley and the Ten Sleepless Knights playing their Christmas favorites as they travel across the big island stopping in all the big neighborhoods for people to come out, dance and celebrate.
On Dec. 23, the action starts at WTJX office and moves west through Anna's Hope, Ginger Thomas, Strawberry, Mon Bijou, Grove Place and Whim. Then there will be a tramp following the band from Frederiksted Post Office to the Midre Cummings Park.
Just after midnight on Dec. 24, as the day begins, the band will head east, starting again at WTJX, then going to Golden Rock, Harbor View, Estate St. John and Eliza's Retreat before tramping from Times Square back to WTJX.
This year the Crucian Carnival naturally has a centennial theme: "Honoring 100 Years of Our Centennial Past, Embracing Our Present and Future to Last." The festival grounds are named the "Rita Chiverton Centennial Village" and will be in the parking lot near the Paul E. Joseph Stadium in Frederiksted. The village opens on Dec. 29 and ends Jan. 8 with 11 big days of village activities.
January 2 is cultural night in the village. "Culture night is a great night to come out for a big variety of people," Rames said. "You can get a taste of sweetbread, cocoa tea or bushy tea," she said. "That day they are having the cultural fashion show too."
Students from all the different schools on the island will parade clothing designed to show off traditional cultural elements like madras fabric. And there will be traditional quadrille dancing.
January 3 the village will host a Centennial Soca and Party Monarch competition.
January 4 is packed with action, starting before dawn with Jouvert. Bands will gather at Hannah's Rest corner at 5 a.m. and the action begins when the V.I. Police Department gives the OK.
Later, in the late morning and afternoon, the Food Arts and Crafts Fair will be in full swing around the Eliza McBean Clock Tower. This year's honoree is the Frederiksted Friedenberg Moravian Church for its more than 25 years of participation in this event. In the evening it's Reggae Night in the village.
January 5 in the village the island's top calypso artists will vie in the Centennial Calypso Monarch Competition.
January 6 the Children's Parade will wind through Frederiksted in the morning and afternoon and Jan. 7, the big event, the Adults Parade.
January 8 it's Latin Night and closing fireworks launched from the Frederiksted dock.
The St. Croix Carnival budget is about half a million dollars and relies heavily on dedicated long-time volunteers. And if you want to get involved, they need your help.
"We always get asked, how did you get involved with the festivities. Just volunteer at one of the activities," Rames said. "You can volunteer to be part of the parade committee, volunteer to be a parade marshal or to be on the soca monarch committee," she said. "We need more people to help with public relations; at the village at night; to help with the announcement of parades and activities," and at the Food, Arts and Craft Fair.
If you want to get involved, send an email to the Christmas Carnival Facebook Page. (See Related Links below)
Village entertainment lineup:
Dec. 29: Fusion Band, Bugsy Bugs with Kylo and the Stylee Band, Onyan and the 3 Cylinder Band
Dec. 30: KPI Band, Hartatak International Band, Small Axe Band
Dec. 31: Rich the Kid, Papi Bands, Prya, Jah Lion Sounds, Wally Cat, Sincere, MC'd by The Krunk Master DJ Slik
Jan. 1: Xpress Band, Spectrum Band, Venomous Poizon Band
Jan 2: Cultural Night – Quelbe Tramp 7 p.m. from the Post office. A public Quadrille, the Cultural Fashion show, traditional Bush and Coco tea and Sweet Bread, Digital Band
Jan 3: Soca and Party Monarch Competition, also featuring two guest artists (to be announced)
Jan 4: Reggae Night- Reggae Bubblers, Fyha Train, Pressure-Buss-Pipe, Ky-Mani Marley
Jan 5: Centennial Calypso Monarch Competition with special guests King Generic, King Derby, Prince Galloway and King Short Shirt and Kule Band in the Rita Chiverton Centennial Village
Jan 6: Vio International, Cool Session Brass, Triple K, Assa Banton
Jan 7: Nikki Brooks, Elizabeth Watley, Teddyson John, Skinny Banton, Olatunji, Kerwin Du Bois, Pumpa
Jan 8: Latin Night: Groupo Mania, Liquid Sounds.