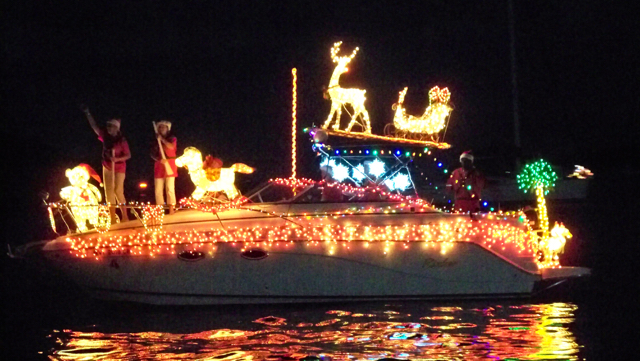 Bright lights were everywhere in Christiansted harbor Saturday night.
They were on the boats in the harbor and in the sky above. Even people walking on the boardwalk had shoes that blinked red and green and held drink glasses that lit up.
You, yourself, could be lit up with green and red laser dots if you turned up Kings Alley.
This, the 18th annual Christmas Boat Parade, might have been the largest yet. Although there is no way to get an official count of how many people were there, almost the complete length of the boardwalk was covered with people, four to six rows deep and barely passable. The restaurants and bars were packed, with no empty tables to be seen.
The main attraction, of course, was the 18 elaborately decorated boats that looped through the harbor three times. But the fireworks that followed the parade came in a close second in impressiveness.
Bill Taylor, after greeting friends in the crowd, said, "This is what is best about the Boat Parade. It marks the beginning of the season and you can say Merry Christmas to your friends."
Before the parade began, the crowd was treated to a free concert by Bob Marley tribute musician Lazo. Lazo was one of the original Wailers, the band that played behind Bob Marley. In the middle of his concert, the Guardians of Culture Moko Jumbies joined Lazo on stage, dancing to the reggae music. Members of the crowd were quickly captivated by the scene, many dancing, and many joining in singing when a favorite Marley tune was performed.
"It was a beautiful evening," said Mary Ellen Connor, a snow bird who was at the parade with her neighbors. "I enjoyed the boat parade and walking on the boardwalk."
Resident John Farchette watched the parade with his wife Elizabeth and son Antonio.
"The boat parade has become the quintessential tradition for us on St. Croix," Farchette said.
Winners in the parade competition will be announced Sunday.
The St. Croix Christmas Boat Parade is a non-profit organization, and it solicits donations from Crucian and family businesses. There is no entry fee for the boaters and no charge to view the parade or enjoy the entertainment.
After all parade and fireworks expenses are paid, any remaining monies are used to help fund local children's charities and orphanages on the island.
The parade was streamed live at www.christmasparadestcroix.com.