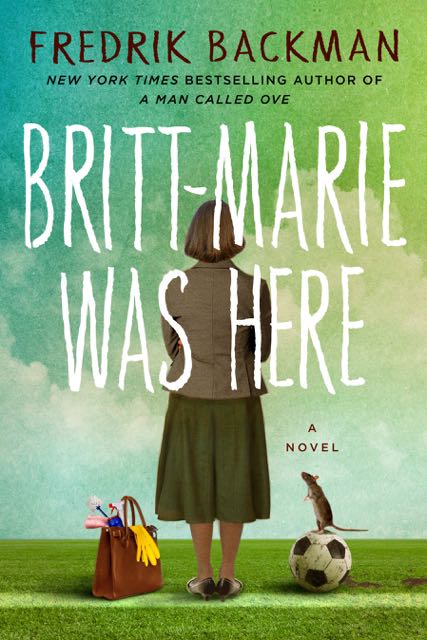 "Britt-Marie Was Here" by Fredrik Backman
c.2016, Atria Books $26 336 pages
"Hey! Look at me!"
You spent a fair amount of your childhood hollering that. "Watch me. Look here. See what I'm doing." Nobody likes to be ignored. In fact, as in the new book "Britt-Marie Was Here" by Fredrik Backman, being invisible is the worst thing of all.
Civility is dead.
Britt-Marie feared that was the case these days. In civil households, silverware is stored, forks-knives-spoons in the drawer. Windows are clean, clothes are pressed, dinner is at six o'clock and not a minute later. These things are important.
She said that to Kent many times throughout their marriage and he laughed. She also asked him repeatedly to put his dirty shirt in the hamper but he always tossed it on the floor instead. It usually smelled of pizza and perfume.
Britt-Marie didn't wear perfume.
Much as she loved her husband, Kent didn't appreciate her. Britt-Marie wasn't sure he even saw her anymore and so, deciding to leave him, she applied for a job. It had been decades since she'd done anything but keep a home and jobs were scarce, but there seemed to be one position for which she was qualified. And so Britt-Marie went to work as a temporary caretaker of a recreation center in Borg, a dying village alongside a half-abandoned road a few miles from town.
There was a pizzeria in Borg, an Everything Store and a post-office, all in the same building, run by a wheelchair-bound woman who drank too much. The village boasted a policeman, a man who received constant packages, a sight-challenged woman with a dog, and a soccer pitch, to which the village's few children flocked.
Soccer was everything in Borg – mostly because there was little else.
Britt-Marie hated soccer.
She hated her predicament too, but someone had to clean the rec center. Someone had to give the kids somewhere to go and to step up as "coach" for their soccer team. Eventually, someone had to look at Britt-Marie and really see her…
What kind of a book do you have when you spit your coffee halfway across the table on page 6 and cry a little, 50 pages later?
A really good one, that's what.
Put this wonderful novel in your hands and "Britt-Marie Was Here" will slyly tickle your funny bone while Backman simultaneously wrings your heart out with both fists. Hilarious and wrenching: it's that way, partly because of the story itself and partly because of the phraseology used to tell it.
Readers won't have to try hard to love the title character in this book either; Britt-Marie is proper to a fault, but for a most painful reason, and Borg's feisty misfit residents are perfectly created for her. Those who've come to love Backman's quirky characters, in other words, won't be disappointed at all.
"Britt-Marie Was Here" should be your book club's next pick. It's the novel you'll carry around because you can't bear to quit it. If you love a tale that will leave you happy-sighing, it's most certainly the book you should look for.
__
The Bookworm is Terri Schlichenmeyer. Terri has been reading since she was 3 years old and never goes anywhere without a book. Her self-syndicated book reviews appear in more than 260 newspapers.