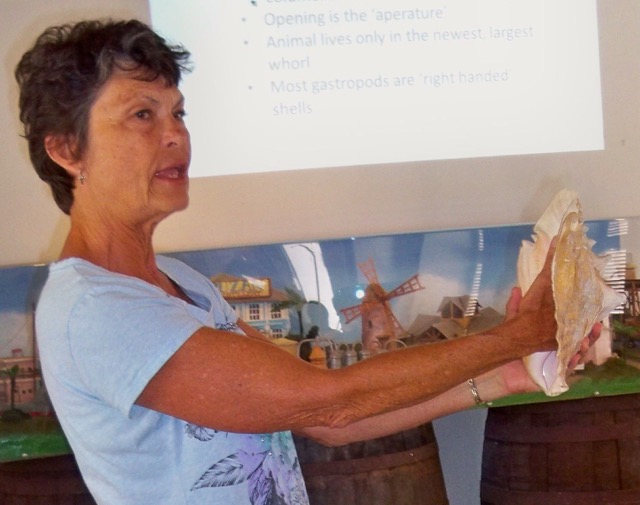 Sometimes the beauty in one's own backyard is the hardest to notice. Members of the St. Croix Seashell Society are helping St. Croix Educational Complex High School students recognize the beauty that is in their figurative backyards – seashells.
Ann Marie Gibbs, retired science teacher and a current substitute teacher, helped the Society Friday in its efforts by bringing three classes of students to Fort Frederick to hear presentations by Sharon Grimes, president of the society. The presentations gave an overview of seashells, their habitats and characteristics.
The students were immediately engaged as they entered the seashell museum room at the fort, each given a different type of local seashell by Society members Zoraida Jacobs and Marcia Taylor.
The seashells did not come immediately in play in the presentation, but the students, about 40 in total, examined their shells and compared them with their neighbors'.
After Grimes described the characteristics of different shells and how they developed and were used, she called on the students to use what she had just told them to identify the shell in their hands.
She put up a slide naming a shell and giving some of its characteristics; students were asked to respond if they held that shell, with those characteristics, in their hand. The students quickly learned the exercise was fun and Grimes had their attention.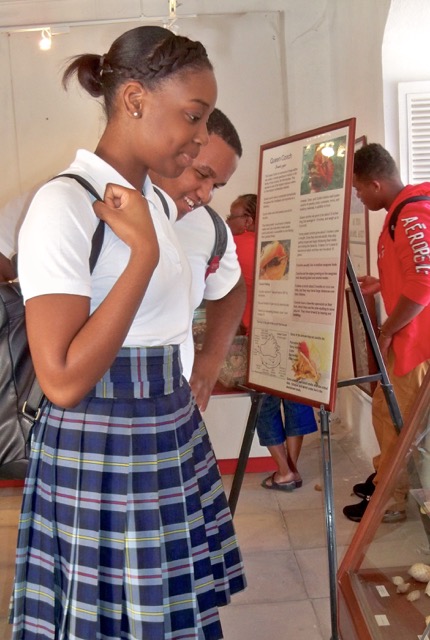 But the presentation was more than just about identifying the shells. Gibbs said she brought her environmental science class to learn about marine stewardship, preservation of the environment, how to practice and promote preservation and how to become student ambassadors of this concept.
The message seemed to get through. Twelfth-grader Shaddea Phillip said, "I didn't know that you were not allowed to remove seashells from the beach."
Grimes had explained the important role seashells play in the ecology of the seashore.
Some of the seashells included in the presentations were queen conch, milk conch, apple murex, lion paw scallop and the true tulip shell.
Gibbs, who has taught for 21 years, said she felt the field trip for the students was "very rewarding."
"They get to understand why seashells are important and why they should not be taken from the beach," Gibbs said. "This is a good program to have in our community."
The St. Croix Seashell Society exhibit at Fort Frederik features around 400 seashells, other mollusks and echinoderms. The exhibit was installed beginning in November 2014. The Department of Natural Resources issued a permit to allow the society to collect a limited number of shells for educational purposes.
The society, a program of the St. Croix Foundation, says it hopes to inspire, educate and increase awareness and appreciation of seashells and echinoderms through exhibits and educational programs.