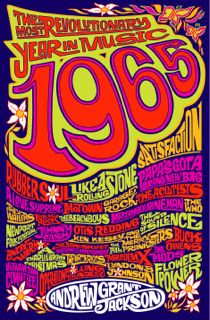 "1965: The Most Revolutionary Year in Music" by Andrew Grant Jackson
c.2015, Thomas Dunne Books $27.99 352 pages
You turned up the volume – again. Surely the guy in the car next to yours must think you're weird. There you are, groovin' to your tunes, seat-dancing, singing along like you were in concert. Really, is there such a thing as having the music too loud?
Turn up the volume one more time and read "1965: The Most Revolutionary Year in Music" by Andrew Grant Jackson.
As the year 1965 began, more than 40 percent of Americans were under 20 years old. Teens emulated their parents then: boys wore short hair, girls wore long skirts. Segregation was common, color TV was new, 80 percent of America was white, and the country's youth had tasted The Beatles and loved them.
Bob Dylan did, too, though John Lennon had once dismissed his music. The Rolling Stones were singing "puppy love" songs, while Barry Gordy hoped his Supremes might follow in Dean Martin's footsteps since the "big money" was in nightclubs.
Marvin Gaye, meanwhile, wanted to be "singing Cole Porter," Malcolm X (who would soon be assassinated) met Martin Luther King Jr., and thousands marched to Montgomery.
As winter turned to spring, Roger Miller captured six Grammys; Charlie Pride struggled with recording deals in a segregated music industry; and Johnny Cash accidentally, drunkenly, set fire to 500 acres of California forest.
The Byrds' music "gave birth to the West Coast hippie dance style…" Girls wore shorter skirts and boys wore longer hair, which "angered" future presidential candidate Mitt Romney and he gave a classmate an impromptu haircut.
By the summer of 1965, President Johnson launched Medicaid, Medicare and escalated America's presence in Vietnam. Barry Gordy hired "a charm school teacher" to prepare the Supremes for stardom… and Watts burned.
With 1965 winding down, Herb Alpert & the Tijuana Brass's album whipped up interest. Frank Sinatra insisted that Sammy Davis Jr. be allowed to stay at Rat Pack hotels, and Paul McCartney allowed a string quartet on "Yesterday."
Cass Elliot became a Mama, John Lennon insulted Carol King, and drug songs were hip. And so, at year's end, was the premiere of A Charlie Brown Christmas.
I looked it up: time travel remains merely theoretical. Still you can have the next best thing by reading "1965."
This book will have you humming along with songs you remember (or recognize, if you weren't around then). The author seamlessly melds history, music and little-known anecdotes but what's most fascinating about this book is seeing how times changed so completely in one year: we went from flattops to Beatle mops, from black segregation to Black is Beautiful, from "I Feel Fine" to "I Feel Good."
"1965: The Most Revolutionary Year in Music" is what you should reach for next if you're an oldies fan, a follower of culture, or if you remember the year with fondness (or regret).
__
The Bookworm is Terri Schlichenmeyer. Terri has been reading since she was 3 years old and never goes anywhere without a book. She lives on a hill in Wisconsin with two dogs and 12,000 books. Her self-syndicated book reviews appear in more than 260 newspapers.