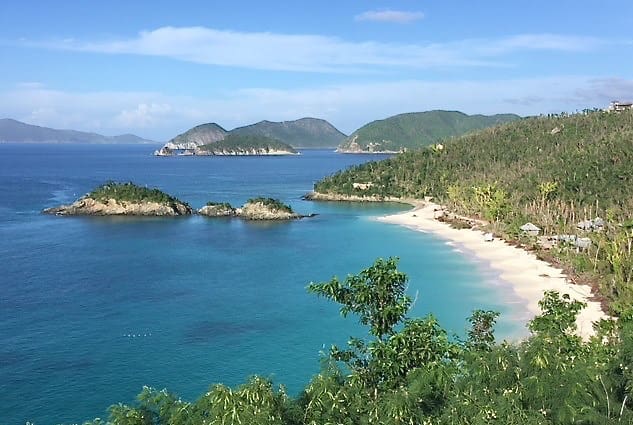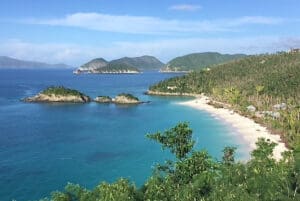 The U.S. Virgin Islands Department of Tourism is thrilled to announce that Trunk Bay, located in St. John has been ranked 6th on the prestigious list of The World's 50 Best Beaches™ 2023. Presented by Banana Boat, this annual list, curated by a panel of travel experts, influencers and enthusiasts, showcases the most breathtaking and sought-after beaches around the globe. Trunk Bay's inclusion in this renowned ranking is a testament to its exceptional natural beauty and the unforgettable experiences it offers to visitors.
Trunk Bay is known for its pristine white sand, crystal-clear turquoise waters, and lush tropical surroundings. With its vibrant coral reefs and abundant marine life, the bay is known as a hot spot for nature driven snorkelers. Visitors can explore the underwater world teeming with colorful fish and discover the famous underwater snorkeling trail.
"We want to thank everyone at Banana Boat and its panel of experts for bestowing this acknowledgment on Trunk Bay," said Joseph Boschulte, USVI Department of Tourism commissioner. "Trunk Bay's breathtaking vistas, unspoiled coastline and thriving marine ecosystem create an authentic paradise for beach enthusiasts and nature admirers alike."
"Our study comes at a time when many travelers are dreaming of that perfect summer beach vacation," said Tine Holst, co-founder of The World's 50 Best Beaches. "It's a unique way of uncovering hidden gems that are often overlooked by the traveling public and provides the perfect inspiration for a beach vacation."
To learn more about Trunk Bay and other amazing locations in the U.S. Virgin Islands, visit www.VisitUSVI.com. To explore the complete list of the World's 50 Best Beaches for 2023, visit www.worlds50beaches.com.