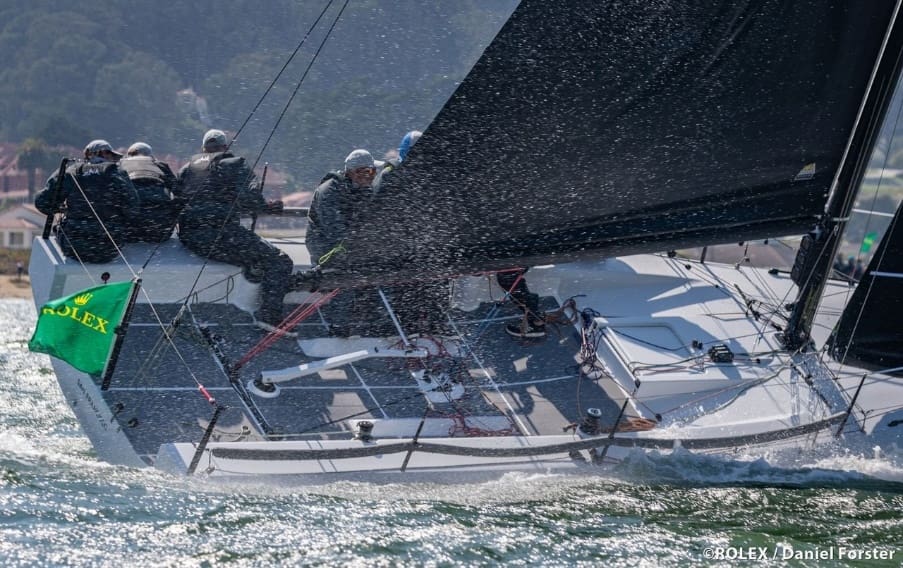 The 49th St. Thomas International Regatta — or STIR — will see a mix of newcomers and returning racers, with some 50 yachts expected to race in the event set for March 24-26 and hosted at the St. Thomas Yacht Club.
There's still time to enter on the St. Thomas International Regatta registration page. Everyone is invited, whether CSA racing and cruising; ORC; Large Multihull; Hobie Waves, and One-Design classes with a minimum length of 20 feet. Volunteers also are welcome.
"STIR 2023 is shaping up to be highly competitive in every class. If you haven't registered yet, I invite you to do so now," said Pat Bailey, co-director of STIR 2023, with Greer Scholes.
"A strong team of volunteers has long been the heart and soul of STIR since its inception nearly a half-century ago. These enthusiastic individuals often operate behind the scenes at the St. Thomas Yacht Club with our experienced staff and on the water assisting our professional race committee. We couldn't offer this caliber of an event without our volunteers, plus the strong support of the Virgin Islands business community, including sponsors such as Ocean Surfari," said Bailey.
Yachts to Watch  
Nearly 50 boats are currently registered for STIR 2023, with more expected in the countdown to the start. The STIR 2023 fleet includes vessels from 24 to 70 feet. STIR welcomes three entries from the new Cape 31 class for the first time. One is the USA's Marc McMorris on his Cape 31, M2.
"We took delivery of the Cape 31 at the beginning of last September in San Francisco and sailed the boat for a few days before competing in the Rolex Big Boat Series. We had a fantastic time! Everyone on the boat really enjoys this new platform. As a result, we want to sail the boat in different venues to continue the enjoyment and spread the word about how much fun these boats are," said McMorris, whose crew hails from the San Francisco Bay area where they all compete in the area's local classes such as the Moore 24s and Wylie Rabbits. "We look forward to warm air, sunshine, and good breezes coming to St. Thomas."
It's a new team on the return entry, Escapado, a First 40.7 race-chartered by the Sail Racing Academy, headquartered in London, England.
"Our team is formed of gap-year students, those on sabbaticals and people flying in just for the race, and our team members who hail from around the world," said Germaine Williams, principal. "STIR is a bit of a hidden treasure, great racing, the friendliest people, and a lot of fun. It gives us the perfect opportunity to further hone our skills on the race course."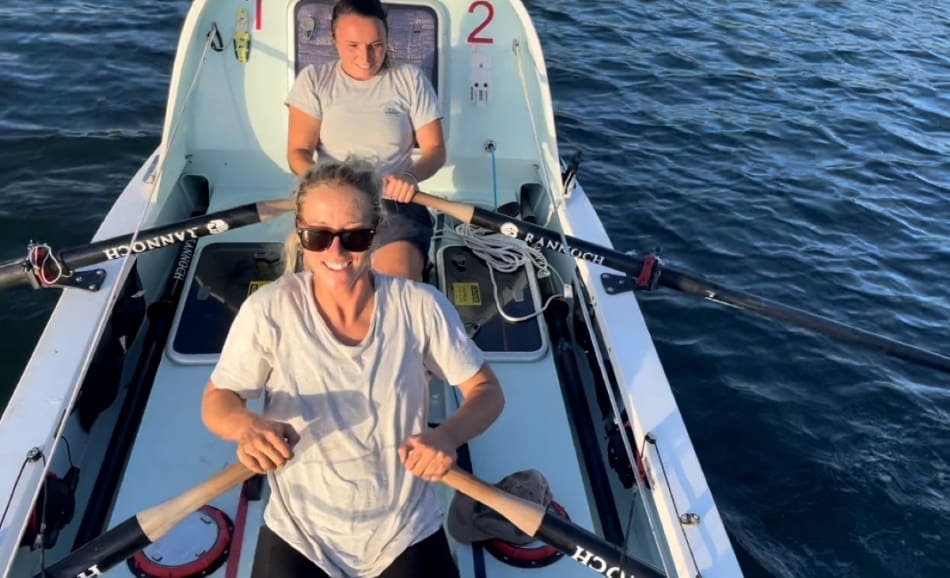 Veteran STIR entrant Antigua and Barbuda's Bernie Wong's RP 37, TAZ, will have a crew member with something new to show fellow regatta entrants this year. Nini Champion and teammate Lisa Roland have formed Team Ocean Grown to participate in the Talisker Whisky Atlantic Challenge. The unassisted 3,000-nautical mile transatlantic row departs in December from La Gomera, Spain, en route to Antigua and Barbuda in an unassisted row.
Champion and Roland's boat, Invictus, will be moored in front of the St. Thomas Yacht Club. When Champion is not racing on TAZ, the two will man a table ashore with information on their team and its charitable cause, the Bridges Over Water Fund, which helps educate, mentor, and assist with job placement in the maritime industry for youth who are aging out of the foster care system.
"One of the greatest benefits of our professional lives on both commercial and race boats is that we truly live our lives at sea, where every single day teaches you a new lesson, which we can't wait to apply to our upcoming race. The sailing community here in the Caribbean and in the U.S. Virgin Islands have been so supportive of Team Ocean Grown and we really can't ever give enough thanks to our friends, family, sponsors, and supporters, many of whom have been with us since day one," said Roland.
Finally, a skipper who has raced almost every STIR since the first — podium-placing many times — is St. Thomas' John Foster. Foster will be helming Magic Bus, in the largest class of the regatta, the one-design IC24s.
"Enjoying the IC24 boat for boat racing has always been the most exciting. It is a true test of sportsmanship, ability, and dexterity combined. The STIR regatta brings together old friendships, good sportsmanship, and a great learning experience for all of us," said Foster. "This year, I am putting together a team of family members, including my sons-in-law Adam Fuller and Eric Ferguson. This will be the first time we have sailed together, and I am looking forward to this unique opportunity!"
Strong Sponsor Support  
STIR 2023 volunteers receive a stylish "thank you" — and one that identifies them to sailors as helpful members of the volunteer corps — via the beautiful Columbia Blue shirts sponsored by Ocean Surfari.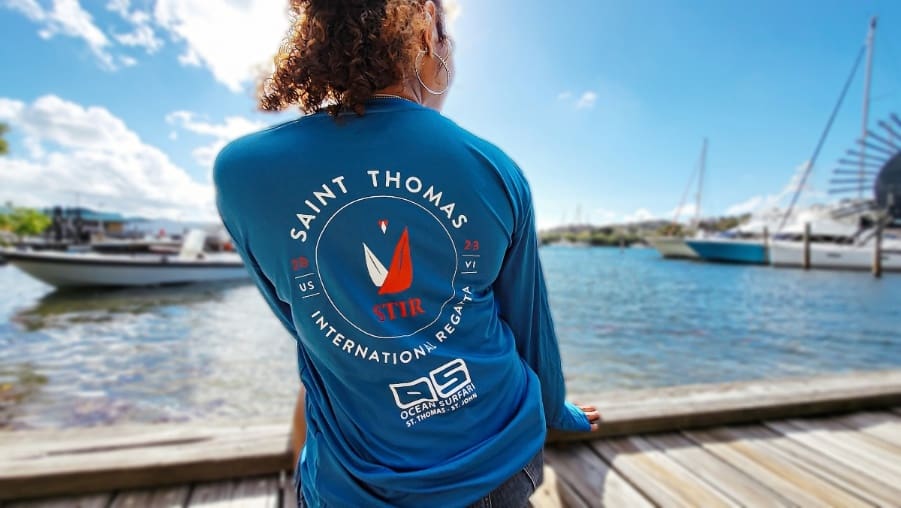 "Ocean Surfari is pleased to support STIR once again in 2023. My wife, Wendy, and I have been part of the sailing community here in the USVI since sailing here from Florida in 2009. Sailing and on-the-water activities are part of our company's culture. We are grateful to have STYC and dozens of volunteers bring this world-class event to our waters," said Marc Blackburn, owner.
Ocean Surfari is a charter company that offers fishing charters, snorkeling, and sunset cruises, and a retailer. Retail stores, which offer almost anything needed for a great time on the water, are in Red Hook and the Havensight Mall on St. Thomas and in Cruz Bay, St. John.
Other sponsors include the USVI Department of Tourism, The Moorings, and K3.
Get Ready, Get Set….
Caribbean Regatta Logistics, owned and operated by St. Thomas native Ben Beer, can assist owners and teams in bringing their boats to race. Call 340-998-6203; email: benbeer13@gmail.com or visit stthomasinternationalregatta.com/faq/caribbean-regatta-logistics/.
Boats competing in CSA Classes at STIR require a CSA rating. The CSA has moved all measurement requests to its online portal, thus simplifying the process of submitting both the request and payment. Boats that need to renew or apply for a partial or complete measurement must also use the portal.
A limited number of IC24s are still available for race charter from the St. Thomas Sailing Center. The charter fee is $3,200 with new sails (used in no more than two previous regattas) and $2,800 with very good sails. Either choice includes the use of an IC24 for the Friday through Sunday event, a practice day on Thursday, and a 30-day membership in the St. Thomas Yacht Club. To reserve, email: info@stthomassailingcenter.com or call 340-690-3681.
More than half a dozen outfits are offering vessels to charter either by boat or crew spot for STIR 2023. For a list, visit stthomasinternationalregatta.com/regatta/charter-companies/
For more information, visit www.stthomasinternationalregatta.com, email manager@stthomasyachtclub.org, or Regatta Co-Director Pat Bailey at simpleislandboy51@gmail.com or call 340-775-6320. Check STIR out on Facebook, Twitter @stirvi, and Instagram #STIRVI.