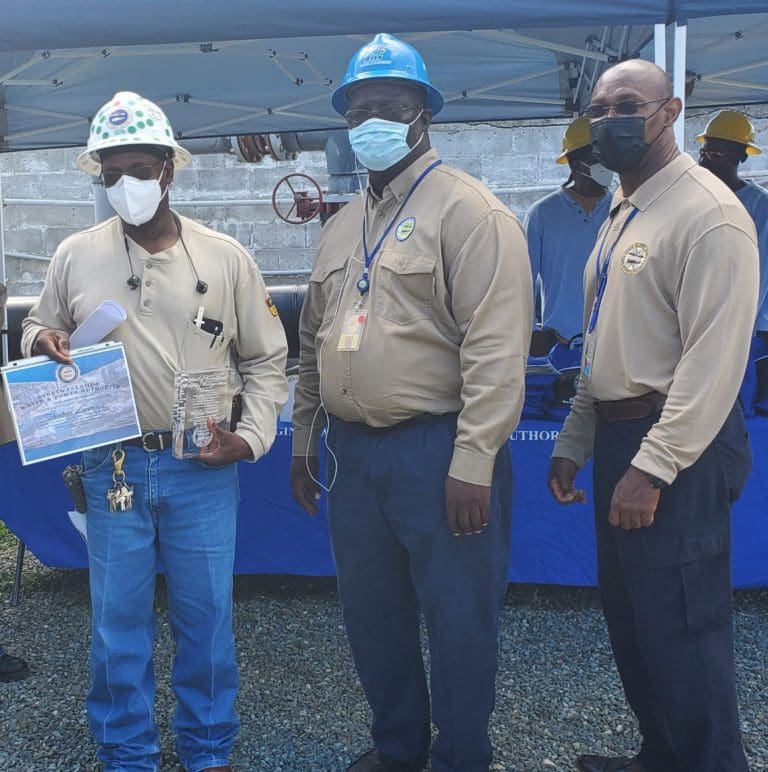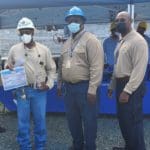 On Friday, April 30, the Virgin Islands Water and Power Authority (WAPA) recognized some of the employees of the Production Maintenance Department at the Estate Richmond Power Plant on St. Croix for operating without loss-time injury during a one-year period, Feb. 2020 – Feb. 2021. The employees were also recognized for completing portions of required TPC safety trainings.
The employees recognized for their work in maintaining a safe and injury free workplace include Diego Reyes Jr., O'Neal Doward Sr., Frillo Sankitts, Okimo Milligan, Davidson Bachelor, Theodore Lawrence, Evans Taylor, Eugene Browne, Curtis Commabatch, Rodney Johnson, Anthony Prentice, Avery Fawkes, Darnel Willock, Clarence Williams, Hanief Aziz, John J. Vidale, John R. Alexis, Gregory Bodley, Matthew Cazaubon, Ira Francis, Kevin Davis, Sheldon Lincoln, Courtney Jackson and Al Joseph.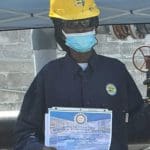 Several members of the Water and Power Authority's senior leadership were on hand to congratulate the employees, including Interim Executive Director Noel Hodge, Interim COO of Electric System Vernon Alexander, Director of Production Kevin Smalls, Manager of Maintenance Damian Marius, Director of Safety Gregory Magras, St. Croix District Safety Manager Christopher Brooks and Safety Officer Cyril Moses.
Administrative staff members in attendance included Shauna Huggins, Tyanne Davis, Melinda Martyr and O'Shana Edney.  Acting Manager of Operations Hillaren Frederick and employees of the Operations Department were also present.