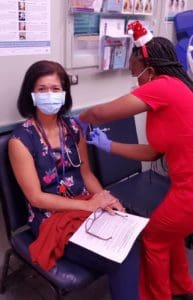 Frederiksted Health Care Inc. (FHC) is one of the distribution sites on St. Croix for the COVID-19 vaccine.  At this time, it is only offering the COVID-19 vaccine developed by Pfizer to health care workers at the Ingeborg Nesbitt Health Center located at 516 Strand Street, Frederiksted.
In the first wave of national vaccine distribution, Frederiksted Health Care has already received a limited supply of doses to begin the grueling battle in the fight against the coronavirus pandemic affecting the community. FHC is hopeful that the emergency use authorization allows the Pfizer-BioNTech COVID-19 vaccine distributed will provide the desired outcome.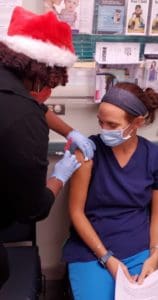 The initial supply of the vaccine is limited. Working with the Virgin Islands Department of Health and the Center for Disease Control (CDC) and other federal partners, FHC has developed a phased plan to benefit the most people. Under this phased plan, Frederiksted Health Care will begin vaccinating health care workers because they are essential in continuing to care for patients throughout the pandemic on St. Croix. All health care workers in the community are invited to contact FHC to coordinate COVID-19 vaccinations.
In phase 2, FHC will vaccinate persons in the community who are immunocompromised. It's important to understand that many will not be able to get the vaccine during this initial rollout when supply is limited.
To reduce the risk of exposure to COVID-19, FHC is asking patients to not come into the FHC site seeking a COVID-19 vaccine at this time. Our Care teams and/or our Division of Social and Community Programs case managers will contact patients directly when a vaccine is available based on each patient's risk factors.
However, patients can get updated information through the website at www.fhc-inc.net.
Receiving the vaccine
The Pfizer vaccine will be administered in two doses. The second dose will be given 21 days after the first dose. To stay safe and continue to protect self and others, even those who receive a vaccine should follow the three Ws:
Wear a mask.
Wash your hands.
Watch your distance – stay six feet apart.
Frederiksted Health Care looks forward to offering the vaccine to the community as it becomes available, and it asks the community for patience during this initial rollout.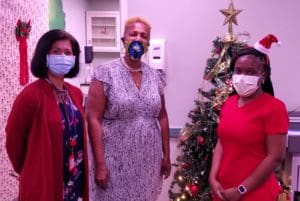 In a prepared statement, FHC's CEO said, "FHC has long-standing and established protocols for vaccine distribution as a federally qualified health center and our process to administer the vaccine of the initial limited doses will ensure that health care workers are supported in this battle with COVID-19. We are encouraging all health care workers to get vaccinated at this time."
CEO Masserae Sprauve Webster and some staff members received the vaccination today.