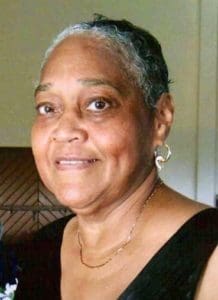 Ana "Elsie" Saez Burnett was born in Vieques, Puerto Rico, on Dec. 1, 1943, to the union of Rafael Saez Camacho and Juana Alonso. She was the oldest of six children. She was raised between two beautiful islands, St. Croix and Vieques.
Elsie was educated on St. Croix. She subsequently held several occupations, homemaker being her most cherished. She loved gardening and growing fruits.
Ana Elsie met and accepted the Lord Christ as her personal Lord and Savior as an adult. She became a fervent witness and servant of the Lord Jesus Christ. She testified of His love and mercies towards her to all she met. She was not ashamed of the Gospel of Jesus Christ. She believed.
Elsie is survived by her husband, Dennison Burnett; children: Emma Curry (Larry), Pablo Corcino, Pamela Thomas and Patricia Laurencin; and grandchildren: Tavia Thompson, Ana Francois, Christina Francois, Larry Curry Jr., Pamela "Denise" Jackson (Marcus), Patrick Thomas, Tee-Jay Thomas, Romeo Thomas, Darshenequa "Darsh" Coleman, Kynara "KB" Sampy and Marcus Sampy Jr.
She is also survived by great-grandchildren: Alaiyah Owens, Jaiden Owens, Marcus "JR" Jackson, Micah Miller, Julien Jackson, DeWayne "DJ" Scott and Roman "Romie" Jackson; siblings: Angel "Guisin" Guadalupe (Olga), Victor "Vitin" Guadalupe Sr. and Ana "Annie" Tobienne; and sister in law, Iris M. Saez.
Other survivors include a beautiful host of nieces, nephews and cousins along with her last surviving uncle, Juan Alonso (Gregoria).
She was preceded in death by her grandparents: Julio Alonso Rexach and Flora Davis Mann; parents: Rafael Saez and Juana Alonso Guadalupe; siblings: Rafael Saez and Julio Saez; and grandson, Dennis "Denny" Gabriel Sampy.
The family will receive friends from 10 a.m. to 11 a.m. on Saturday, May 11, at the Schmidt Funeral Home Grand Parkway Chapel, in Katy, where funeral services will be held at 11 a.m. Interment will follow in Katy Magnolia Cemetery.