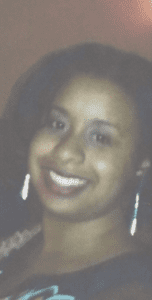 Aarielle Martia James transitioned into eternal life on Monday, April 22, at the age of 27.
She was preceded in death by her paternal grandparents: Asta Klyvert James and Gerard Luz James.
Left behind to honor her memory and mourn her passing are her loving parents: Kelsey and Valerie James; her brother, Kelsey James (KJ); her maternal grandparents: David and Martha Roberson; and a host of loving aunts, uncles, cousins and dear friends.
A viewing will take place at 10 a.m. followed by a funeral service at 10:30 a.m., on Friday, May 10, at Holy Cross Catholic Church. Interment will follow at Kingshill Cemetery.