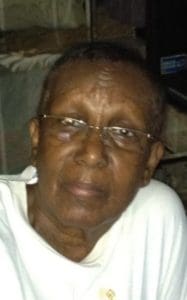 Ednitta May (Palton) Emanuel, age 74, of Estate Strawberry Hill, passed away on Thursday April 25, in her home of 40 years. She was a mother, an educator and woman of great faith.
She was born Dec. 19, 1944, of Laura Belvina Palton (d) and Arnold Jules Palton (d) on the island of St. Lucia in the village of Laborie. She was the second oldest of 11 brothers and sisters.
She received her Associate and Bachelor of Science in Accounting from LaSalle University. She was formerly married to Samuel Emanuel for 29 years.
She is survived by her son, Craig; her daughter, Wendy and her grandchildren: Greta and Alexander; sisters: Roseline, Bernadette, Valerie and Avril; brothers: Uranus, Avelinus and Gerard; nephews: Camillus, Gavin, Nat, Vicky, Marlon, Alvin, Greg, Jules, Rono, Stephen, Ashad, Javed and Frederick; nieces: Rosemary, Lydia, Janine, Angela, Glenny, Dana, Stacy, Phay, Nicole, Hendra, Sue Marie, Cynthia, Gerona, and Shevon; daughter in-law, Wang Yuhong; and her dog, Chocolate.
She is reunited in the spirit with her sister Sheila and her brothers Lennards and Henry.
She taught religion at the St. Patrick's Catholic School from 1993 through 2014. She worked in the after school program through 2019.
She was a member of the Sacred Heart Society and volunteered at the Herbert Grigg Home.
There will be a viewing held at 9 a.m. and a funeral service at 10 a.m., on Tuesday, May 7, at St. Ann's Catholic Church. Private cremation will follow.