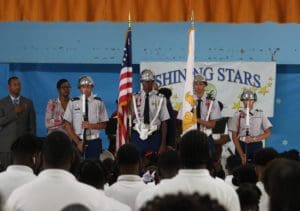 The Virgin Islands Department of Education (DOE), St. Croix District Office of the Insular Superintendent recognized 250 students at its Shining Stars Celebration on Sunday, March 24, at the Alfredo Andrews Elementary School.
The ceremony recognized students in public elementary, junior high and senior high schools who scored the highest or made a significant improvement on the 2018 Fall Smarter Balanced Assessment.
Acting Insular Superintendent Carlos McGregor expressed how the beneficial the assessment is to schools.
"The more Shining Stars (students) we see at these celebrations, the more resources from our federal government we'll receive for our schools from computers and Promethean boards to laptops and professional development trainings."
The superintendent took time to acknowledge Board of Education member Winona Hendricks, who was present, and Senator Alicia Barnes, who shared some supporting words.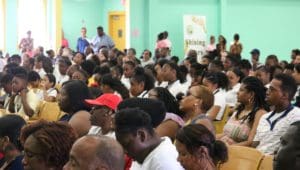 "I would like to commend the Department of Education, the administrators, teachers, faculty and staff for all that you do to empower and educate the best and most important resource in the Virgin Islands, our students," said Barnes. "It is very important that we stress the academic excellence in our students," she said.
Barnes not only came as a senator to show support but also as a parent; her daughter, Nia Sylvester, exceeded state achievement standards on the assessment.
St. Croix District Director of Data and Assessments Saul Santiago, Ph.D., expressed his satisfaction with the students' performance and gave some background on how the Smarter Balanced Assessment is configured.
"As the District Director of Data and Assessments, I couldn't be more proud of these students and their achievements," he said.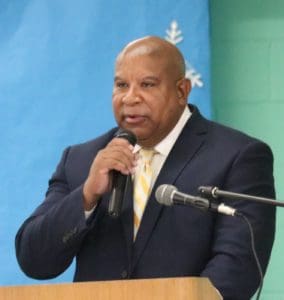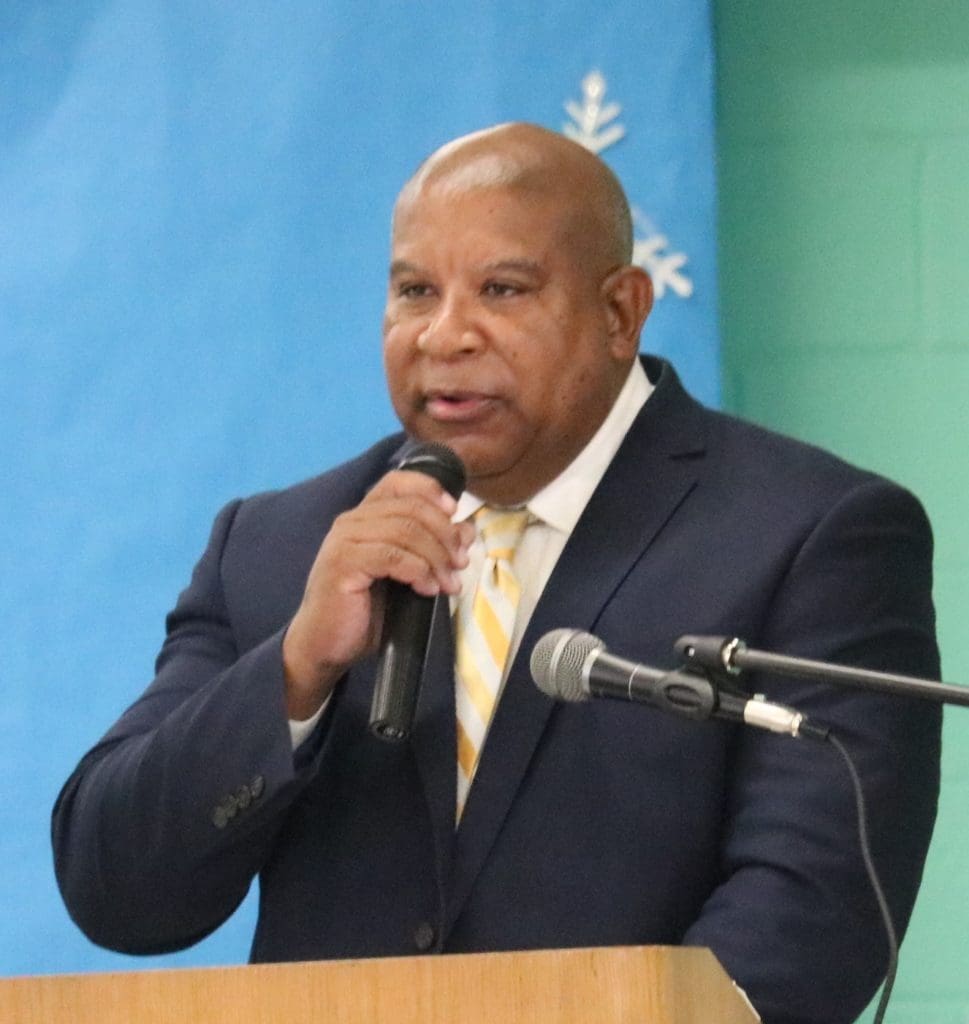 "The two highest levels on the assessment are proficient and advanced. Proficient students meet the achievement standards for their grade level. But the students being recognized here today went beyond their grade level! They were advanced in math or the English/Language Arts."
The same Smarter Balanced Assessment that the students took are administered to all schools across the nation.
"Out of the 2,300 students who took the exams last fall in St. Croix, this group represents the top 10 percent in our district."
"We're also honoring students who are not necessarily advanced but have made significant progress on the Smarter Balanced Assessment. These students and their teachers have shown how hard work and perseverance can translate into remarkable results in academics," said Santiago.
The ceremony continued with the recognition of students. Schools were called up individually, and they received a certificate, a medal and a pin. Light refreshments were available for students and families following the ceremony.
Acting Deputy Superintendent Carla Bastian, Ph.D., closed out the event by expressing her gratitude to all stakeholders on behalf of the district.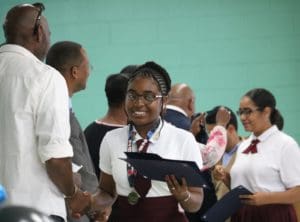 "Students, I expect you to continue to do your best. Parents, I want to say thank you for continuing to push our children. You play an important part in what we recognized here today. To our teachers, our administrators and our school staff, we also say thank you for your daily contributions to our students' success.
ST. CROIX DISTRICT SHINING STARS
Alexander Henderson Elementary School
Ty'Shaune Brown
Iyana Gittens
Ra'Shaad Milligan
Kymira Baptiste
Elijah Jospeh
Daejon Liburd
Adaina Smith
Jahyra Porfil
D'Neisjah Clouden
Serbina Tisson
Tiejah Roberts
Sa'Niyah Feliciano
Levendra Rattiram
Gabriel Donelly
Donnie Heywood
Claude O. Markoe Elementary School
A'Nyra Richards
Alexander Polydore
Ah'Kielah Nielson
E'leeya Richard
Jabez simon
Jayla John
Genesis Nesbeth
Anaika Santos
Janisa Boulogne
Shaquanna Russell
Alfredo Andrews Elementary School
Ahniyah Malaiyah Mason
Carl Justine Consulta
Mia Wells
OO'Mayah Lang
Leilani Henrys
Sherina Turney
Shaheem Rahahleh
Harry Crispin
Makeyah Jacobs
Malique Taylor
Sha'Dalia Stridiron
Jarimar Cintron
Eulalie R. Rivera Elementary School
Soriyah Evans
Jahnilah Swanston
Naomi Lloyd
Leilani Santiago
Amaryse Rivera
Khaleel Williams
Lalique Brathwaite
Sole Rogers
Re'yonce Roach
Yanisha Wilfred
Ajhiba Williams
Travon St. Ville
Juanita Gardine Elementary School
Jahnyah Greenidge
Laila Paula Joseph
Jade Douglas
Israel Brown
Angelina Guadelupe
Valyncia Thomas
Malchiel Proctor
Rhudel Lawrence
Lew Muckle Elementary School
D'Lejah Charles
A'nyah Carino
Pristine Tutein
Aure' Baptiste
Sarah Raglin
Amiyah Henderson
Jahnya Allahar
Anthony Fede-Hernanadez
Henry Medina Moreno
Arthur A. Richards Jr. High School
Addis Tzaddi
Ariel Heyliger
Azhanae Messer
Illiana Perez
Tyresha Stapleton
Na'Kia Armstrong
Alexander Avila- Guadelupe
Elijah Romain
Shem Thomas
Nely Reynoso
Jahshawn James
Tenequa Ayala
Ricardo Richards Elementary School
Aya Mahmoud
Demarqi Christopher
Kalyn Blackwood
Keemar Croskey
Denelle Moise
Lauren Jones
Ace Poyah
Angel Legrand
Kyvon Parris
Aundre Dolcar
Daryl Griffith
Dakari Smith
Terrance Bryson
Anaya Hector
A'Nyra Lang
Alana Francis
Christina O'Shaughnessy
Nishanna Parson
Nirisi Griffith
Masai Matthias Miller
Ani Velez
Jnai Valmont
Allysa Brady
Kristion Ferris
Orlando Gerard
Leila Idheileh
Terrilyn Mitchell
Kaylona Larocque
Kayla Matthew
Sativa Paul
Tiera J'Nai Polanco
Jah-Leen Shervington
Pearl B. Larsen Elementary School
Eugene Ventura
Divyne Frazer
Haley Olson
Frambelys Luna Polanco
Kayden Hay
J'Nairah Bryan
Sophia Ziegler
Norma Tyson
K'Layah Parris
Vigga Tyson
Isolde Diaz Belle
Austin Tutein
Amalie-Laeah Figureoa
Suri Williams
Jeniya Weste
Amaya Hamilton
Daniela De La Rosa Castro
Lily Skov
Jadah Kodran
John Gilbert
De'Jah Maynard
Kristhailis Dominguez Valera
Cheniel Silva Quinones
Jequan Weste
Tony Rios
John H. Woodson Jr. High School
Reneecia Bertrand
Arielle Orendain
Yadiel Parilla
Victor Perez
Jai'Lynn Santiago
Kristle Casey
Marcus Simmiokjier
Joscelin Torres
Janise Diaz
Deondre Christopher
Brianna Lopez
Rehanna Griffiths
Jahzara Lafond
Jahnaiy Rodriguez
Qui'Nyah Navarro
Jayden Ferdinand
Elisha Rogers
K'Yara Simon
Chenille Bolivar
Keijhenae Peterson
Leanne Valery
Marcus Miller
Carmindy Nicole Pickering
T'Naejah Aniyah Williams
Una Alexander
Eugene Stevenson
Ashlyn Morrell
Lamar Sealey
Dale Matthew
Malcom Lopez
David Ponce
Horato Matthew
Carlos Morales
Daniela Ventura
Darran Aubert
Nelson Velazquez
Zaryah Jonas
Carlos Crispin
Ana Boulonge
Elena Christian Jr. High School
Roshaad Titus
Tyreak Creighton
Alexia Sargeant
Kemari Hay
Lyisla Woods
Jaelyn Bailey
Hadeyah Donaie
Naveah Crump
Jose Torres
Gabriella Alexander
Gavin Douglas
Erin Flynn
Ke'Vounte Hughes
Le'shay O'Garro
Angelina Springer
Ajani Nicholas
St. Croix Educational Complex
Kevin Williams
DaReone Christopher
Djamel Boucenna
Dwayna Byrde
Ajani Saldana
Jhylie Roebuck
Amari DeSouza
Malik Bailey
Jamoy Hardy
Sanay Hewitt
Angel La Force
Nisieni Griffith
Leishla Rodriguez
Camille Consulta
Sulaiman Donaie
Janay Ventura
Glerysbeth Rivera
Rahkiyah Felix
Julory Deterville
Kelvin Brodhurst
Shazim Brandy
Matthias Sinanan
Juan Batista
Kimara Cooper
Taajwar Samuel
Kobe Knight
Dianna Athurton
Xavier Hinkson
Reneice Llanos
Dayaneira Sigobin
Ron Duncan
Nathan Thomas
Omar De Haza
Melissa Ferraras
Julian Aponte
Sharika Milligan
Licelot Rodriguez
Kareem Sealey
Kyle Phil Lewis
Jah'Keyla Francis
Nia Sylvester
St. Croix Central High School
Nicholas Smith
Indeyah Todman
Jayme Colbert-Williams
Amira Claxton
Romeka Bergan
Letisha Ayala
Laurie Cedeno
Odaysha Abraham
Briannen Howell
De'Shanna Richardson
Guillermo Morel
Kayla Browne
Jashira Torres
Amayah Schoonmaker
Alex Valmont
Toquan Francis
Nyana Francois
Ishmael Webster
Akellia Tisson