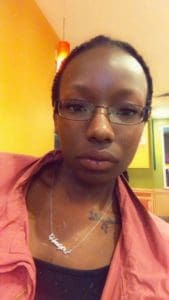 Jinika R. J. Nisbitt died on March 1.
Jinika is survived by her mother, JudyAnne Ross-Abdur-Rasheed (Zakee); father, Kenrick "Marley" Nisbitt; sisters: Jenee Roberts and Jeleayah Brewster; grandmother, Eileen Whyte; special friends: Justin Clarke, Kiesha Ledesma and Mia Mitchell (resting with Jinika); and uncles: Clifford Warner (Elaine), Clement "Daudi" Samuel (Nadine "Sawe"), Vernon "Junie" Edwards, Ulric Edwards, St. Clair Byam (Daisy), Haniff Nisbitt, Rodney Bartlette, Kendell Williams, Andy Williams, Frank Williams, Rupert W. Ross Jr. (Cheryl), Edgar D. Ross (Anita), Raymond O. Ross (Lydia) and James L. Ross.
She is also survived by aunts: Sharon Nisbitt, Denise Hackett, Sade Bartlette, Sonia Williams, Janice Ross-Grant, Jewel Ross-Brathwaite, Paurline Nesbitt and Coralita Nesbitt; great aunt, Eunice Whyte-Thomas; great uncles: Calvin Whyte and Samuel Whyte; and first cousins: Diahann Nesbitt, Shonda Browne, Shalana Browne, Joanna Bird, Jennifer Brown, Christopher Richardson, Tim Nesbitt, Rick Nesbitt, Link Nesbitt, Randy Nesbitt, Marlon Nesbitt, Cheru A., Rupert O., Edgar T. Ross, Yvette Ross Edwards, Desiree Ross, Wendye Ross-Rice, Ian Tomlinson, Wayne and Doris Ross, Neelia Ross.
Other first cousins include: Jamalia Ross-Vegas, James L. Ross Jr., Mervelle and Mervin Sage Jr., Rudy, Randy, Roan, Reva and Rashawn Ross, Ruchella Samuel, Nakia Samuel, Najaray Roberts, Dauda Benjamin, Aisha Jules, Danisha Samuel-Santos, Kimoi Samuel, Jeniqua Byam, Deniqua Byam, Danica Byam, Wayne Alexis Warner, Terrance Timothy Warner, Teaddy Theadore Warner, Calvin Jeremy Warner, Clifton Warner, Cody Warner, Clifford A. Warner Jr., Wendy Warner and Shakira Warner; as well as other family members and family friends too numerous to mention.
The viewing will take10:30 a.m. and the funeral service at 11 a.m., Sunday, March 24, at Faith Seventh-day Adventist Church. Interment will follow at Kingshill Cemetery.