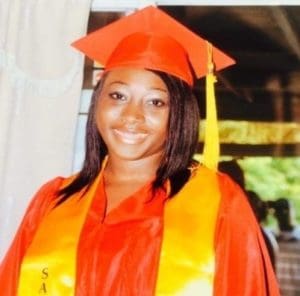 Mia Mitchell died on Friday, May 1.
She is preceded in death by her grandfather, Carl E. Andrews; aunt, Sharon Mitchell; and cousins: Oral Archibald, Susanna Branch and Andrew Bridgewater Jr.
She is survived by her mother, Carla A. Andrews; father, Albert Mitchell; brother, Trae' A. Mitchell (Celeste Rivera-Rivera); grandmothers: Rupertha A. Andrews, Catherine Morain and Wilma Fredericks (adopted): grandfather, Joseph Mitchell; aunts: Andrea Andrews-Fredericks, Sandra G. Barbel-Ravariere, Annette Andrews-Gonzalez, Carla E. Andrews, Patricia Andrews-Pierre, Arlene Rice and Jennifer Mitchell; uncles: Austin Andrews, Canute Swanston, Andre Andrews, Alexis Andrews, Carl E. Andrews and Clifford Andrews; great aunts: Geraldine Archibald, Ternar Archibald, Lenore Bridgewater, Uldene Branch, Amorelle Archibald, Cleta Archibald, Glennys Browne, Clair Andrews and Daniel Andrews; and great uncles: Wrigbie Archibald, Nigel Archibald and Sydney Morain.
She is also survived by cousins: Brandon McIntosh, Michael Fredericks Jr., Seantoia Straatman, Tamesha Andrews, Andre Andrews, Dakaria Andrews, Malakai Andrews, Beyonce' Andrews, Alesha Andrews, Ava Andrews, Julian Morton Jr., Helena Shoy, Nyasha Morton, Shaheel Morton, Jahnile Morton, Jared Morton, Ilija Wiilliams, Hassani Ramsey, Xemayah Lewis, Kyle Lewis, Cleo Ravariere, Candra Ravariere, Carli Andrews, Jornas Pierre, Clifford Andrews Jr., Alicia Andrews, Rafael Gonzalez, Ronaldo Gonzalez, Adrienne Rice, Carliste Rice, Christina Rice, Anthony Archibald, Sylvia Archibald, Wrenford Archibald, Theona Archibald, Myron Leonard, Erica Charles, Angela Archibald.
More surviving cousins: Amy Archibald, Alex Archibald, Alva Archibald, Wrigbie Archibald Jr., Julie Archibald-Smithen, Trisha Archibald, Shawn Walters, Andrew Bridgewater, Adrian Bridgewater, Joseph Bridgewater Jr., Belinda Bridgewater, Angelo Bridgewater, Consuela Petersen, Rupertha Petersen, Leon Petersen, Natasha Branch, Candace Archibald, Ricky Barbel, Adelbert Barbel, Michelle Barbel, Jason Archibald, Jonathan Archibald, Shenelle Browne, Latisha Graham, Latasha Graham, Lakeishon Graham, Latania Graham, Laphia Graham, Odeal Archibald, Wrenica Archibald, Tanisha Leonard, Tristan Smithen, Tyrique Smithen, Wentworth Smithen Jr., Andreanna Bridgewater.
Other surviving cousins include: Aliyah Bridgewater, Joseph Bridgewater III, Jaliyah Bridgewater, Amaru Bridgewater, Xavier Bridgewater, Ana-Lisa Bridgewater, Anlester Bridgewater, Ebony Petersen, Leon Petersen Jr., Keysean St. Brice, Zyan St. Brice, Cameron White, Shanida Thompson, Jelisa Cornwall, Shamandi McFarlande, Le'Andre McFarlande, La'Monte McFarlande, Ryckisha-Lee Barbel, Ryneisha-Lee Barbel, Ricky Barbel Jr., Khaleem Barbel, Ashley Barbel, Xavier Barbel, Isaiah Barbel, Kashmere Barbel, Shericka James-Scott and Akeel Edward; special friends: Jinika (best friend), Star, Rudy, Deshante, C'quan, T'shauna, Sofia, Jade and Khadijah; as well as other relatives and friends too numerous to mention.
Funeral service will be held at 9:30 a.m., Sunday, March 17, at Peter's Rest Seventh-day Adventist Church. Interment will follow at Kingshill Cemetery.