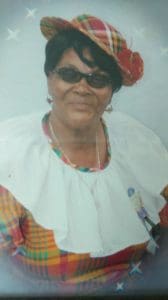 Christinita Benjamin Michel of Aureo Diaz died on Feb. 23. She was 82 years old.
She is survived by her children: MayLouise Barnes, Ruben Prince, Carmen James, Deborah Lenhardt, Yvette Benjamin and Steve Benjamin; cousins: Janice, Marian, Delores, Junie King, Gloria, Amalia and Lucia; and grandchildren: Raymond C., Akima B., Asheba S., Caroline B., Stephanie B., Shantea W., Phinehas W., Eric M., Erica R., Terrance M., Carol M., Shalimar M., Regina Clovis., Donya A., Johanna James., Leo J., Sharon T., Jermaine T., Della E., Nina B., Danal L., Christopher L., Kiana A., Rolen P., Kordell P., Cheyenne P., April P-C., Raigan P., Ruben P., Christinita P. and Claire G.
She is also survived by great-grandchildren: Nahjari T., Denyrah H., Daniym H., Daniqua I., Danishwa I., Shahely P., Rubina H., Rudisha B., Rasi H., Safirah P., Rhomanie C., Ashema D., Ashaun D., Joy S., Faith S., Monette M., Zoriah A., Zayden J., Amir M., Maurice C., Saige R., Verla C., Xhaviere C., Devonte S., Raydiance C., Rayanna C., Raquan W., Jace B., Alyssia C., Amelia P., Ruben P., Cateleya P., Amy G., Purvis G., Danal Jr. and Jaydah L.; great-great-grandchildren: Natasia T., Cinayah R., Israel M., Issac M., Sarah S. and Nathan W.; family by law: Jeanine Benjamin, Andrew Rodney, Donnell Samuel, Melvin Sheppard and Candace Roberts; as well as other relatives and friends too numerous to mention.
The viewing will be held at noon followed by the funeral service at 1 p.m., Friday, March 22, at New Testament Church of God, Estate Whim. Interment will be at Kingshill Cemetery.