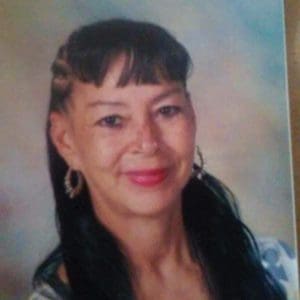 Adella Calderon, also known as "Delly," of Estate Richmond died on Dec. 23, 2018. She was 65 years.
She was preceded in death by her mother, Victorina R. Pimentel; father, Juan M. Pimentel; and brother, William A. Pimentel.
She is survived by her daughter, Evalise I. Calderon; son, Carlos O. Calderon Jr.; grandchildren: Bruce Parrilla Jr., Delroy, Delicia and Delita A. Bates and Allanise A. Johannes; great-grandchildren: Bruce Parrilla III, Deroy A. Bates and Steadman James Jr.: sisters: Vilma Singh, Lucy Pimentel, Joanne Pimentel-Willie, Linda L. Peters and Josephine Pimentel; and brother, Johnny Pimentel.
She is also survived by nieces and nephews: Cherise Calderon, Maryelsie Calderon, Carla Calderon, Sandra Singh, Jada Pimentel, Damia Pimentel, Carlos Calderon, Marlon Peters, Irvin Peters, Dave Singh, Johnny Pimentel Jr., Johnny Nieves, Maricel Nieves, Juan Nicholas, Obediah Nicholas, Ambokile Bassue, Abeda Nicholas, Kenrick R. Sylvester, Ikusha Bassue, Shriclair Willie, Inderia Peters, Kenrick R. Sylvester, Radiance Hofmann, Micah Willie, Natasha Burke, Jonisha Burke, Victoria Sylvester, Rasheema Horsford, Rolana Horsford and Lizza Calderon.
Other survivors include daughter-in-law, Shevonne Frederick; son-in-law, Henry Watson Jr.; aunt, Pauline Ramos Cabret; uncles: Raymond Ramos and Tony Ramos; brothers-in-law: Peter Willie and Irvin Peters; godchildren: Colly Cascen and Shy Gonzalez; special friends: Milagros Rivera, Fransia Cedano, Wayne Horton (Tieef), Jennifer and Chiquita Nick, Stedroy Thomas (Force), Maria and Carlos Rivera and Hilma Gonzalez; cousin and best friend: Mary Osorio and Judy Jacob; as well as other family members too numerous to mention.
The family requests those in attendance wear festive colors.
Tributes will begin at 10 a.m. followed by a funeral service at 10:30 a.m., Wednesday, Jan. 16, at Holy Cross Catholic Church. Interment will be at Kingshill Cemetery.