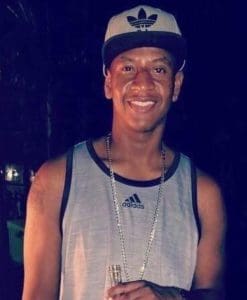 Thomas Lee Dortch Jr., also known as "Teejay," died on Dec. 30, 2018. He was 30 years old.
He is preceded in death by his mother, Shermaine S. Jack; and niece, Sade'ah R. Seeram.
He is survived by his grandmother, Leova Harris; daughters: Xendia Dortch and Shanairy Dortch; sons: Tjharie Dortch and Tejai Dortch; sisters: Shakeda S. Archibald, Khendrah K. Simmonds, Kheyandrah K. Simmonds and Gleneva Berklely; niece, Shalayah S. Galloway; nephew, Randy G. Seeram Jr.; aunts: Wanda Harris, Diane Jack, Erica Miller and Rayna Harris; and uncles: Wanson Harris Jr., Steve Jack, Anthony Jack, Sherman Jack and Malcolm Hughes.
He is also survived by brother-in-law, Randy G. Seeram Sr.; and special friends: Rahsan Foster, Marisol Ventura, James Gilbert, Louis Milligan, Diniquo Brewster, Oto Ortiz, Eric Thompson, Hassan Charles, Jullele Lloyd, Luis Figueroa, Ukimby Berry, Michael Bridgewater, the JFL family, Juleen Willock and Halima Henry.
Other survivors include cousins and other relatives: Aniyah Kelly, Khaliah Jack, Sherman, LaBrittany, Deontanee, Jatoria Jack, N'Kayla, N'kia, N'koya and Stephanie Hughes, Wanisha, Mariah, Tseday, Khalessi Harris, Miracle, Heavenly and Massiah Richards, Rashawna, Kamar, Kyle and Kimoy Christopher, Dean Camacho, Risheem and Reshawn Burke, Shavonne Dawson, Maria Carmona, Ashelle and Ashley Archibald, and Jayvyn Brooks; as well as other relatives and friends too numerous to mention.
There will be a viewing at 9 a.m. and a funeral service at 10 a.m., Tuesday, Jan. 15, at Victorious Believers. Interment will follow at Kingshill Cemetery.