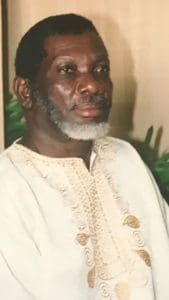 Roy Adolphus Richards of Estate Royal Manor died on Saturday, June 30. He was 83 years old.
He is survived by his spouse, Veronica Richards; sons: Ivan Richards and Leon Williams; daughters: Veronica (also known as Florence), Althea Richards, Dorsette (also known as Rose) Bailey, and Ciceley Bartley; stepchildren: Denise Woolfork, Doreen Carr, Alexander and Andre Gumbs; adopted children: Samuel and Urla Wiltshire, Patrick Petersen and Keturah Baptiste; special grandson: Ivan Richards Jr. (also known as ViVi); 30 grandchildren; 28 great-grandchildren; two great-great-grandchildren; sisters: Veronica and Yvonne Richards, Ann Ferris and Dorothy Heath; and brothers: Ira, Liston, Vernon and Edgar Richards and Joseph Ferris.
He is also survived by his aunt, Carmen Knowles; special nieces: Kimberley Gumbs and Denise Reid; nephews and nieces too numerous to mention; sons-in-law, Isimba Bailey; daughters-in-law: Uldine Richards and Jennifer Williams; brothers-in-law: Bertram John and Bernard Jacobs; sister-in-law: Jean Murrain, Monica Jacobs and Annelda Joseph, Lucinda Richards and Alvare Richards; special cousins: Lorna Techeira and family, and Catherine Dye; and other cousins too numerous to mention.
Other survivors include special family, friends and caretakers: Matthew and Laverne Henry, Naomi Joseph and family, Amialyn Augustus, James Byam and family, Rosemary Williams, Verna Lake and family, Hilare Hosier, Ivan Johnson, Knowles family, Richards family, Yolanda Robles, Irose Riley, Loretta Browne, Dorothy McIntosh, Anesta Wilson, Ramona Pierre, Morris Benjamin and family, Susan Martin, George Thibou, Patsy James, Maitland Joseph, Anthony and Leola Fatal, Bernice Lapps, Margaret Joseph, Maria Thomas, Maudlin Adams, Josephine Acklin, Carmen Hogan, Epiphane and Maria Baptiste, Patrick and Bernadette Walters, Albina Benjamin, Mary Thomas, Mr. and Mrs. Jeffers, Velda Massiah.
More special family, friends and caretakers include: Alvia Carry, James Phillip, Junie Williams, Carol and Ineta Brown, Seventh-day Adventist Church family, Christolyn Johnson, Carol Punter, Bernadette Mapp, Everette Charles, Yvonne Joseph and family, Ina Isaac and family, Continuum Care staff, Cynthia Benjamin, Louisa Williams, Leona Williams, Karlean De Leon, Yvonne Jenkins, Timothy Boswell and family, Vernon Green and family, Winston Joseph and family, Janice Floyd and family, Angie and Cherry-Ann Bhagwandass, Owen and Fernella Lewis, Rubylette Huggins and family, Judith Fench, Sherline Nathaniel, Micky Richards, Louraine Ashterman and family, Lustilda Mattis and family, Roslyn Joseph, Mary Donovan, Trevor Wallace and Elizabeth Maida; as well as many other friends too numerous to mention.
There will be a viewing at 10 a.m. and a funeral service at 11 a.m. on Sunday, July 22, at Central Seventh-day Adventist Church, Estate Grove Place, Frederiksted. Interment will follow at Kingshill Cemetery.