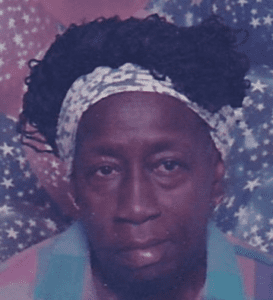 Sylvia N. Bastian-McPherson, also known as "Syl," "Foxy," or "Macky," of Estate Grove Place died on June 30. She was 83 years old.
She is survived by her sons: Dean "Shakuma" Iles, Dwayne "Masik" Fergus and Dale "Decky" Fergus; adopted daughter, Corine A. White-Lynch; grandchildren: Takisha, Lakeisha, Laquida, Dumau and DumaRay Iles, Tachonda, Tasharia, Adeja, Rasheed, Rashann and Shyanka Fergus, Najeem Greenidge and Timaya Parker; great-grandchildren: Lamalliah Milligan, Lehmani Iles, Liniyah and Li'Zyon Audain, Niyorah and Nazir James, Omari, D'Myah Iles, Mikael Christian, Ja'marii Fergus and Omani Iles; and sisters: Lucian Bastian and Eugenie Bastian Tutein.
She is also survived by nieces: Nadine Samuel, Ame Stevens, Anita C. Bastian, Bridgette Williams, Wendy, Esther and Diane Jones, Tricia Bastian, Sharon Bastian Simmon, Nicole Bastian, Monifa Bastian, Dorette Simmonds, Almarie Richards and Tisha Tutein; nephews: Bain, Vain and Ezra Charles, Derek Bastian, Charles Bastian Jr., Wendell Bastian Jr., Alfred Roach Jr., Edwin Roach, Esteban Davila Jr., David Brewster Sr., Ian Baptist and Paget Jones; daughters-in-law: Celia "Kima" Joseph-Iles and Olive Henry-Fergus; brother-in-law, Willard Tutein; sister-in-law, Doris Bastain; and godchildren: Evol Lynch, Kaden Walcott, Makia O'Reilly, Dennis Lynch, Hubert Lynch and Cyd Williams.
Other survivors include special friends: Joan Viotty and family, Antoinette Lenhardt and family, Delroy Byron, Ken and Maggie O'Reilly and family, Eileen Cabey, Beverly Richards, Marlene Henry, Cleon Carty, Kirtley "Shooter" Stanley, Polly Collymore, Theodore Brow and family, Chetoya and Kenny Walcott, Valerie Greenidge and family, Ann and Lillian Matthew, the Sisterhood and Arita George; cousins and other relatives: the Bastian, Gordons, Milligan, Eastman, Theresa Thomas, Vivian Mason, Williams, Allick, Byron, Watts, Johannes, Francis, Cornelius, Schrader, Murray and James families, Charles Byron and Delroy Thomas, and the Edney family; as well as other relatives and friends too numerous to mention.
A viewing will take place at 9 a.m. and a funeral service at 10 a.m., Friday, July 20, at St. Paul's Anglican Church. Interment will follow at Frederiksted Cemetery.