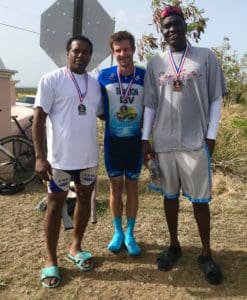 In Sunday's South Shore Time Trial, hosted by the Virgin Islands Cycling Federation (VICF), 18 cyclists faced fierce wind for the first half of the race against the clock as they headed east from Ha' penny to the turnaround at the Divi Hotel. The race was held on July 1.
Although Glenn "Hula" Massiah reached one second in time ahead of the eventual Elite winner, he finished the 18-mile race 29 seconds behind for second place overall. Stephen Swanton was first in a time of 50:20; David Parris was third in 50:58.
Back on island for a short stay, Dedrick Luikens led the Expert category in a time of 51:33, which was also the fourth fastest overall time. Norbert Prospere was second in 56:42; Morgan Theophane was third in 58:31.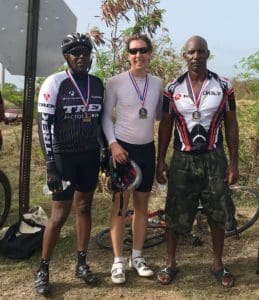 With the most consistent splits of the morning, James Meyers rode to first place in the Sport category with a time of 1:01:01. Olani Vanterpool was second in 1:02:57; Laverne Fredericksen, the lone female rider, was third in 1:03:09.
The next VICF event, the Suzie Q Road Race, will be held at 7 a.m., Sunday, July 29. For more information, call 332-6282.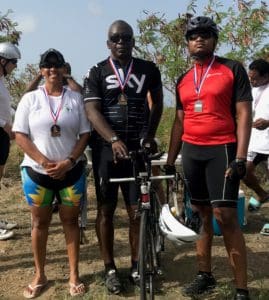 Sunday, July 1, 2018 Virgin Islands Cycling Federation
South Shore Time Trial from Ha' penny to Divi to Ha' penny
Conditions: overcast, windy
Elite 18 miles TOTAL TIME/ Out/ Back
1 Stephen Swanton 0:50:20 0:26:37/ 0:23:43
2 Glenn Massiah 0:50:49 0:26:36/ 0:24:13
3 David Parris 0:50:58 0:26:39/ 0:24:19
4 Ian Collins 0:53:29 0:28:12/ 0:25:17
5 Scott Marusa 0:53:38 0:28:30/ 0:25:08
6 Jerry Remie 0:55:20 0:28:49/ 0:26:31
Expert 18 miles TOTAL TIME/ Out/ Back
1 Dedrick Luikens 0:51:33 0:27:27/ 0:24:06
2 Norbert Prospere 0:56:42 0:29:16/ 0:27:26
3 Morgan Theophane 0:58:31 0:30:22/ 0:28:09
4 Mario Peters 0:59:51 0:30:36/ 0:29:15
5 Shawn Baptiste 1:00:51 0:31:48/ 0:29:03
6 Alvin Thomas 1:03:01 0:33:26/ 0:29:35
Sport 18 miles TOTAL TIME/ Out/ Back
1 James Meyers 1:01:01 0:30:33/ 0:30:28
2 Olani Vanterpool 1:02:57 0:33:07/ 0:29:50
3 Laverne Fredericksen 1:03:09 0:33:41/ 0:29:28
4 Mervin Mills 1:05:24 0:33:43/ 0:31:41
5 Hubert Bartlett 1:07:00 0:33:42/ 0:33:18
6 Yves Abraham 1:09:04 0:35:06/ 0:33:58