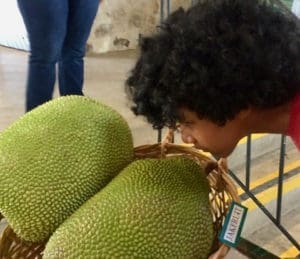 Dubbed the Irmaria Recovery Edition, the 22nd annual Mango Melee at the St. George Village Botanical Village Garden on Sunday, July 8, celebrates not only mangos but also the garden's comeback and the territory's resilience after Hurricanes Irma and Maria.
Director of Administration and Development Amy Parker DeSorbo promises that the 2018 Mango Melee will outdo previous melees.
"It will be the juiciest event on the island," she said. "We'll have more things going on this year, more than ever!"
New this year, the garden will hold a Miss Mango Melee Competition. Categories include Miss Minnie Mango for ages four to six, Miss Mango for seven- to 12-year-olds, and Miss Mature Mango for ladies 50 and older.
"I love a competition, and I love a crown. So many people on St. Croix love a crown," Parker DeSorbo said.
Contestants will wear and model a cultural outfit, give a 60-second introductory speech, and participate in a question and answer session. Crowned and sashed, the winners will represent Mango Melee on the garden's float in parades and various garden events.
Parker DeSorbo looks forward to seeing the 50 plus participants.
"It's a fun age bracket. So many of the seniors in our community live fully. I want to give them even more encouragement to do fun things," she said.
Another first, local fire dance and performance troupe Coral Fire will present Mango Mermaid. Kids can find her in a tank next to the Children's Museum in Laura's Garden and can help her swim.
Two longstanding competitions return for 2018: the mango-eating contest with categories for adults and children, and the Mango Dis, Mango Dat cooking competition in which folks sample a wide variety of enticing mango concoctions.
In keeping with the theme of recovery, St. Croix farmers will their sell wares and arborist Brian Daley will hold a workshop on care for trees that have been affected by the storms.
Laurie Samuel will peddle her cakes, tarts and breads. Toni Downs of Queen Caribee will set up shop with her chutneys, jams, soaps, honeys and bees' wraps.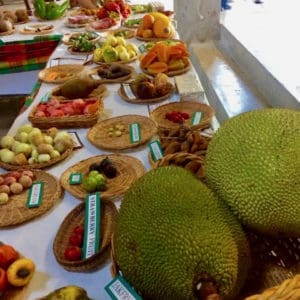 Because the 2017 hurricanes damaged so many local trees, the Irmaria Recovery Edition of Mango Melee will not showcase its usual array of mangos and other native fruits this year. Instead, it will display and auction off a number of fruit trees typical of what can grow on St. Croix: avocados, mangos, guava, jackfruit (aka jakfruit), loquat, sugar apple and sapodilla, to name a few.
Vanessa Forbes of the UVI Cooperative Extension helped bring in the trees for the event, according to Parker DeSorbo.
Live entertainment throughout the day will include such favorites as Stanley and the Ten Sleepless Knights, Junie Bomba, Acoustic Sauce, We Deh Ya Cultural Dancers, Mercy Child, Khadijo and others. Rebel and Friends will host karaoke.
For those who want to kick back in the shade, organizers have arranged a VIP tent where cocktails will flow and Java Joe's will serve foods. As of this writing, tickets, at $125 a piece, are still available.
St. George Village Botanical Garden's biggest fundraiser of the year, Mango Melee benefits the garden's operating expenses.
The garden has come a long way since last September.
"This year we are the home to the St. Croix Children's Museum and have a new butterfly garden," said Parker DeSorbo. "With our wonderful board of governors, our garden team, and Executive Director Dewey Hollister's vision, I can't wait to see the improvements to come," she said.
Mango Melee will run from noon until 6 p.m. Sunday.