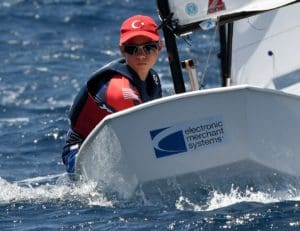 Speed and tactics proved the winning combination that led 13-year-old Peter Foley to place first overall at the 26th International Optimist Regatta (IOR), presented by Electronic Merchant Systems (EMS) Virgin Islands and hosted by the St. Thomas Yacht Club (STYC), June 15 to 17. Yet it was the starts — getting a front row seat on the start line without being early — that figured strongly in Foley's win, especially in Sunday's final two races for the Championship Fleet.
In fact, it was a combination of light winds, strong current and last day push the limits excitement among the sailors that led to many being over the start line too early and thus receive penalty points. As a result, there were several final day place changes on the scoreboard.
"I was in second place by 8 points going into today," said Foley, from Coconut Grove, Fla. "My strategy was to sail my best and win the first race, which I did. Then, I was prepared to match race Ryan (Satterberg) if I needed to in the second race just to be sure and get ahead of him. In the end, he (Ryan) had two black flags (over early designations), and I only had one."
Satterberg, from Santa Barbara, Calif., led the IOR/EMS the first two days and ultimately finished seventh overall in the Championship Fleet. Seventy-nine sailors completed 10 races in this fleet.
Foley also won the 13- to 15-year-old Red Fleet.
Meanwhile, it was Foley's sister, Audrey, who led the 11-and 12-year old Blue Fleet.
"My strategy was to do my best, always find a good place on the start line, and stay in front," said the 12-year-old Foley, who said she enjoys sailing against her brother and the competition it offers. Foley also won the Top Girl award.
Tanner Krygsveld, who won the age 10 and under White Fleet last year, led the Blue Fleet the first two days, before falling to third after two double-digit scores.
"It was the last day, all or nothing, and we were all really pushing the start line," said Krygsveld, from St. Thomas, U.S. Virgin Islands.
In the White Fleet, Elliott Lipp, from Charleston, S.C., scored a black flag in the last race today, but two of these penalties sent class leader, James Pine, from Lakewood, Texas, to third. St. Croix's Ryan Moorhead expertly handled his starts to handily move up to second in this fleet.
"The waves were the hardest for me," said 10-year-old Lipp. "I actually got seasick the first day. We sail in the harbor at home in Charleston, and this was the first time I've raced in the open ocean."
The Top U.S. Virgin Islands sailor in the IOR/EMS was St. Thomas' Caroline Sibilly, who placed 11th overall.
"The conditions were tricky because the winds were lighter than what we usually have here, but it was a fun regatta," said 14-year-old Sibilly. "We practiced time and distance at the start at the clinic earlier this week, and that really helped me to avoid a black flag."
In the Green Beginner Fleet, the champion was 10-year-old Alejandro Ferrer, from San Juan, Puerto Rico. The 24 sailors in this fleet completed 22 races.
"My friends told me about this regatta and I wanted to come," said Ferrer, who started sailing a year ago. "I did bad in one race today. I said to myself I must do better next time and that helped."
In other awards, it was the Canada's Daniel Connors, representing the Royal Nova Scotia Yacht Squadron in Halifax, who earned the Chuck Fuller Sportsmanship Award, while it was Tony Slowik III, from the Austin Yacht Club in Texas, who was presented with the Pete Ives Award, given for a combination of sailing prowess, sportsmanship, determination and good attitude both on and off the water.
"The wind cooperated, and we had fantastic championship and beginner fleets. It was probably one of the best regattas we've had. As always, the St. Thomas Yacht Club and Virgin Islands Sailing Association (VISA) delivered again," said St. Thomas' Bill Canfield, who shared principal race officer duties with Puerto Rico's Diana Emmanuelli.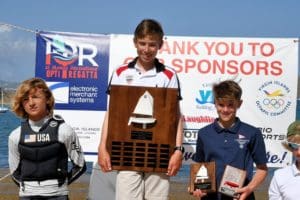 Some 110 8- to 15-year-old sailors representing two nations and three territories – the U.S. Virgin Islands, British Virgin Islands, Puerto Rico, the USA and Canada – started the week by training in the three-day TOTE Maritime Clinic held June 11 to 13. The clinic was run by top local and international coaches: Mykel Alonso (Coral Reef Yacht Club), Cyrill Auyer (U.S. National team coach/Swiss coach/St. Petersburgh Yacht Club); Mike Dowd (USA National team coach/Team CERT); Tino Galan (USVI coach); Bernat Gali (Spanish coach/Lakewood Yacht Club); Esteban Rocha (USA team coach for the Optimist World Championships/Lauderdale Yacht Club); Argy Resano (USVI team coach); Manny Resano (USA National team coach/California Yacht Club); Greer Scholes (USVI coach); and Omari Scott (USA team coach for the Optimist European Championships/Coral Reef Yacht Club).
The one-day TOTE Maritime Team Racing Championships took place, June 14. Out of 13 teams, the winner was Team USA Worlds, composed of Peter Foley (Coral Reef Yacht Club, Florida), Thommie Grit (Sarasota Yacht Club, Florida), Ryan Satterberg (Santa Barbara Yacht Club, California), Tommy Sitzmann (Lauderdale Yacht Club, Florida) and Stephan Baker (Lauderdale Yacht Club, Florida). This marked the first time that the sailors had competed together as a team.
The IOR/EMS was organized under authority of the Virgin Islands Sailing Association and it is a Caribbean Sailing Association-sanctioned event.
"We at EMS Virgin Islands would like to thank all the sailors, families and coaches; the race committee, principal race officers and international judges; and the St. Thomas Yacht Club for making this regatta such a success," said Cobia Fagan, owner, EMS Virgin Islands, whose 8-year-old son, Coby, participated in the regatta for the second year and competed in the Green Fleet. "We are so happy to see many past participants return and several new sailors and their families visit the Virgin Islands and compete for the first time. We are looking forward to the IOR/EMS 2019."
The IOR is sponsored by EMS Virgin Islands, TOTE Maritime, the U.S. Virgin Islands Department of Tourism, K3 Waterproof Gear and TRIO Sportswear.
For more information, call 513-2234 or email: [email protected]. For full results, visit the STYC website at www.styc.club or www.regattanetwork.com. Also, visit the International Optimist Regatta on Facebook!
RESULTS
TOP 5 FINISHERS BY FLEET
RED FLEET
1. Peter Foley, USA (27)
2. Stephan Baker, USA, USA (32)
3. Tommy Sitzmann, USA (67)
4. Jackson McAliley, USA (70)
5. Tony Slowik III, USA (72)
BLUE FLEET
1. Audrey Foley, USA (105)
2. Charles Gil Hackel, USA (106)
3. Tanner Krygsveld, St. Thomas, USVI (121)
4. Freddie Parkin, USA (124)
5. Pearse Dowd, USA (141)
WHITE FLEET
1. Elliott Lipp, USA (406)
2. Ryan Moorhead, St. Croix, USVI (424)
3. James Pine, USA (428)
4. Nathan Pine USA (474)
5. Gian Marco Piovanetti, San Juan, PR (555)
GREEN FLEET
1. Alejandro Ferrer, San Juan, PR (44)
2. Brayden Zawyer, USA (53)
3. Elinor Alfi, USA (105)
4. Ava McAliley, USA (107)
5. Coby Fagan, St. Thomas, USVI (110)
ABOUT THE SPONSORS
Electronic Merchant Systems (EMS) Virgin Islands. EMS Virgin Islands offers an extensive suite of payment acceptance options through Electronic Merchant Systems, a proven leader of the industry. We work to give customers the opportunity to pay using their preferred method, including a feature rich, affordable POS system that includes EMV, Apple Pay and Google Pay. We're continually adding new solutions, allowing business owners to make their products or services available to the broadest audience possible. www.emsvirginislands.com (340) 513-9759.
U.S. Virgin Islands Department of Tourism. The U.S. Virgin Islands are located in the Eastern Caribbean 1,100 miles southeast of Miami, Florida, USA. Each of the three major islands–St. Croix, St. Thomas and St. John–possesses a unique character of its own. Visitors can enjoy a wide range of watersports as well as immerse themselves in the territory's rich culture by enjoying historical tours, culinary encounters, artisan fairs, parades, storytelling and other special presentations. www.visitusvi.com
TOTE Maritime. TOTE Maritime is a domestic ocean freight carrier headquartered in Jacksonville, Florida, that offers freight services for containerized cargo between the U.S., San Juan, Puerto Rico and U.S. Virgin Islands. TOTE is the first carrier to operate liquid natural gas (LNG) powered vessels. www.totemaritime.com