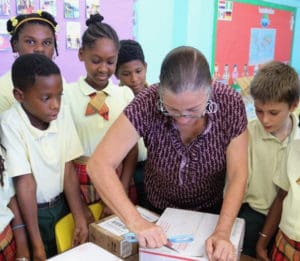 Pearl B. Larsen Elementary School's family of parents, students and the administration will be increasing their praise and support for teachers during the celebration of Teachers' Appreciation Week, Monday, May 7, to Friday, May 11. Tuesday, May 8 will be observed as Teachers' Appreciation Day, according to Joan Claxton, principal.
Held during the first full week of May every year, Teacher Appreciation Week, or National Teacher Appreciation Week, celebrates and recognizes teachers and the contributions they make to education and society. It provides an opportunity for students, their parents and school principals to show their appreciation for the hard work teachers do and the long hours their commit to children's education.
The theme of the week is "Teachers Deliver and They D-o!" The school family will show respect and foster respect for the educational professionals and do positive things to honor them this week and throughout the year.
"They have been working diligently to educate and nurture our students despite the extremely challenging conditions post Category 5 hurricanes Maria and Irma, which adversely affected the Virgin Islands as of September 2017," Claxton said. "We salute our creative teachers for all they do."
Larsen School family is also acknowledging school nurses this week for their dedication in ensuring students are healthy for learning.
"As we move forward, we hope for the full recovery and improvement of our schools and community at large," the principal said. "Let us live and work harmoniously and productively. Sincere thanks to all resilient educators and related stakeholders for cooperatively providing a quality education for our students amid adversity. Enjoy Teachers' Appreciation."