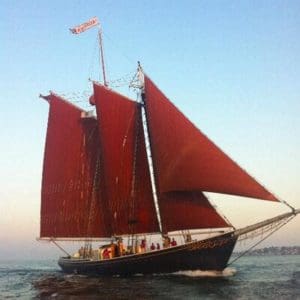 The Virgin Islands Department of Education, St. Croix District, recently accepted a donation of boxes of Neosporin and alcohol wipes from the crew of Roseway, a ship with the World Ocean Sailing School in Boston, Mass. The hygienic supplies will replenish the stocks in the school nurse offices and Special Education Specialized Instructional Environment (SIE) classrooms, according to Deputy Superintendent Faith Dane George-Boone.
"We are very grateful for this donation of supplies which will go a long way in helping treat any medical emergencies as a first response," said George-Boone. "The Roseway also provided sailing instruction to all 5th grade students in our district during the school year, and the crew is also working to fund two of our high school students' participation in a six-week sailing summer program in Boston."
Through the sailing school programs, students have the opportunity to take marine science, maritime history, literature, navigation and seamanship courses while sailing along the coast of St. Croix.
World Ocean School is a nonprofit with educational programs that help underserved children by challenging them academically, physically and emotionally in hands-on programs aboard this historic ship Roseway.