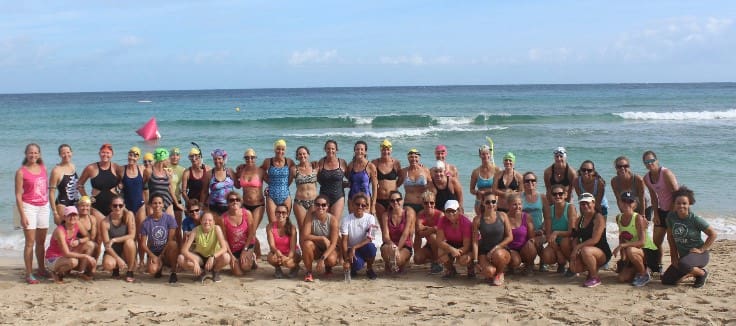 In spite of the rollers on the sea and the strong, gusty wind, Sunday morning was picture perfect for the Mermaid Mixer at Cane Bay — a women-only event hosted by the Virgin Islands Triathlon Federation (VITF) and the Mermaid Mixer Event Committee.
Following Hurricane Maria, VITF received a generous grant from Women for Tri, which is a group of the Ironman Foundation, to host their multi-sport event. The primary mission of Women for Tri is to encourage female athletes of all athletic abilities to engage in multi-sport events of all distances.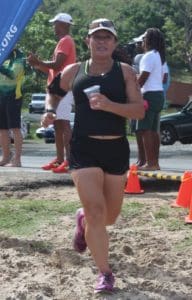 The Women for Tri embraces the reason why women find the sport of triathlon so rewarding: it tests their ability, helps them to overcome challenges and opens their eyes to the scope of their potential. Although the Mermaid Mixer was not a full triathlon, most women had the same mission on Sunday set by Women for Tri.
The primary focus of the Mermaid Mixer committee was to bring athletic women of St. Croix together as part of a social, non-competitive event in order to break the barriers and pressures of performance and comparison to others. The event was a swim/run relay, also known as a splash 'n dash, where each participant was randomly selected as the swimmer or runner for a team.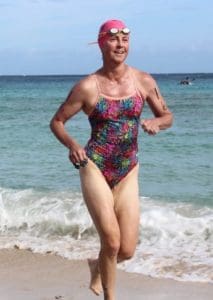 The swimmer on the two-person team took on a rough 2-lap, 400-meter swim, while the runner completed an out-and-back 2-mile run. Forty-four women registered on Sunday morning, which made 22 teams. After crossing the finish line, each participant was encouraged to "mix" with other "mermaids" and to enjoy the morning on the beach with music, snacks and great raffle prizes.
VITF's Theresa Harper spoke about the opportunities for women to become involved in multi-sport events on St. Croix. The federation hosts nearly a dozen events annually for children and adults.
The Mermaid Mixer committee thanks Women for Tri, volunteers, kayakers, and the many local businesses and individuals who donated prizes to the raffle drawing.
For more information on upcoming events, go to http://vitf.org/