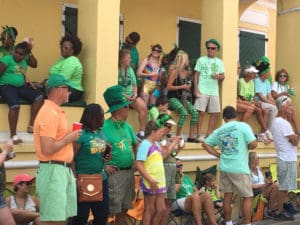 Christiansted sported all shades of green Saturday when the 49th annual St. Patrick's Day Parade tramped through the town from Hospital Street to Times Square and down to the waterfront.
Led by Grand Marshall Norma George of the Domino Club, one of the island's biggest biggest St. Patrick's Day parades ever started promptly at 11 a.m.
Floats and troupes recycled the parade down King Street until almost 3 p.m.
The theme, Repairing the Rainbow, was carried through in grand style especially the Lost Dog float – larger than ever and proud if its new location in Frederiksted.
Music was everywhere with the public high school marching bands, several DJ's and Stanley and the 10 Sleepless Knights quelbe rendition of "When Irish Eyes are Smiling."