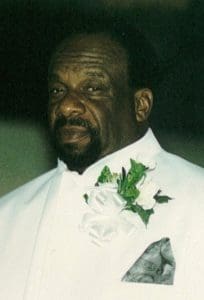 Norbert Alexius Joseph Pickering Sr., also known as "Picalou" or "Sippie," of Estate Whim died on Sunday, Jan. 14. He was 73 years old.
He is survived by his daughters: Rhea Pickering and Cherice Pickering -King; son, Norbert Pickering Jr.; stepdaughter, Janis Simmonds; stepsons: Elston Gaskin Sr., Maurice Gaskin and Darwin Simmonds; and grandchildren: Naquida, Carmindy, Rybeckah, Chrinity and Chasidy Pickering, Naheem Carrington, Nakisha Phillip, Oflami King, Elston Gaskin Jr., Asani Gaskin, Allysha, Keynisha and Kasim Hansen, Dayla and Damalia Simmonds, Rashida Gaskin, Elita Gaskin, and Daniel and Nakimba Gaskin.
He is also survived by sisters: Melba Joseph and Lynell Fergus-Armory; brother, Rodney Pickering; nieces: Paula Pickering, Etta Lee Pickering-Mitchell, Glendora Pickering-Porter, Lorina Pickering-Dyer, Lila Payne-Scheffer, Eboni Christian, Valenica Brown, Lynell Fergus-Armory, Karris Armory, and Diedre, Diane and Delreese Brown; nephews: Andre and Anthony Mazyck, Anthony Brown Jr., Gregory Bennerson Jr., Robert and Lionel Christian, Najeem Armory and Dei'Ondre Armory; great nieces: Lyssa Williams, Dejah Porter and Brittany Mazyck; and great nephews: Devante, Valmont and Aaron Williams, Kendell, Barry, Keenan and Kori Mitchell; other great nieces and great nephews Adriel; Azriel Williams.
Other survivors include daughters-in-law: Carmi E. Pickering, Christine Gaskin and Dorette Simmonds; son-in-law, Arthur King; sisters-in-law: Geralda Pickering and Sharon Brown; godbrother, Adelbert M. "Bert" Bryan; special friends: Burton Hansen, Daryl Lynch, Wendell Parris, Debra Miller-Hansen, Dennis Brow, Melroy James, Camille "King Derby" Macedon, Tarco & The Playboys, Tarco's Crucian Rhythm Band, WAPA employees, Commissioner Delroy Richards, Gwenny Lucas, Velma Thomas, Lloyd Thomas, Dwayne Fergus, Hilda Gonzales, Doris Brown and James Parris; special family: Matthew Jordan, Mindo Byron and Shareen Jordan; as well as other relatives and friends too numerous to mention.
The viewing will take place at 9 a.m. and the funeral service at 10 a.m., Monday, Jan. 29, at St. Joseph's Catholic Church. Interment will follow at Kingshill Cemetery.