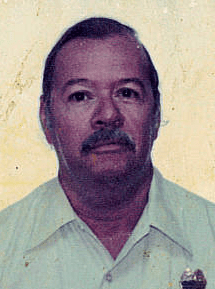 The family of James Peder Golden is saddened to announce his passing due to natural causes on Jan. 20, 2018, on St. Croix. He was 82 years old.
He was born in Christiansted, St. Croix. He was the fourth child of Louis and Violet Golden out of a total of ten. The Golden family lived at 57 Company Street, Christiansted. Jim attended Saint Mary's High School from where he graduated in 1953. Along with his brothers, Jim served as an altar boy at Holy Cross Catholic Church.
Jim lived for a time with his sister, Olga, in Georgia where he gained a wealth of experience and knowledge in the fields of home construction and auto repair. A few years later, he returned to St. Croix where he was a ground radio operator/technician at WIVI radio station (he helped build the radio tower). He then worked as a postal clerk with the United States Postal Service, and later as a senior customs inspector at the U.S. Customs Service where he distinguished himself as an expert marksman.
He was an avid golfer, who, after retirement, worked as a ranger on a volunteer basis at Buccaneer Hotel.
He was preceded in death by his beloved wife, Hermoine Capdeville Golden to whom he was married for 50 years; his father, Louis Golden; his mother, Violet (Pedersen) Golden; brothers: Arnold Mortimer "Morty" Golden, Louis "Junie" Golden Jr., George Golden, Edwin "Chicken" Golden and John Golden; and sisters Olga Spoon, Miriam Edna Britos and Marie Golden.
Jim leaves behind to mourn his passing two sons: Andrew L. Capdeville Esq. and Douglas L. Capdeville Esq.; grandchildren: Chanelle Rohan Ivey, Kim Conyers, Lisa-Marie Capdeville, Diandra Capdeville, Savanna Capdeville, Gabriel Capdeville, Donovan Capdeville and Douglas Capdeville II; brother, Mario Golden; sister, Rita Golden Lanear; daughter-in-law, Roxanne Johnson Capdeville; sisters-in-law: LaVerne Golden, Juliette Whitley, Senora Early Smith, Catherine Fachette Golden and Carmen Encarnacion Golden; and brother-in-law, Chester (Skee) Whitley.
He is also survived by nieces: Linda Wood Goldman, Tanya Whitley Paey, Gina Whitley Tucker, Helen Marie Golden-Danielson, Violet Ann Golden, Carmen Louise Golden-Walker, Jannah Abdul Kabir, Kay Marie Willocks, Eloise Quinones, Joan Osowski, Lani Britos, Kari Britos-Osburn, Monique Golden, Chanel Golden, Nicole Golden-Encarnacion, Desiree K.M. Golden and Marie Golden.
Other survivors include nephews: Steven R. Wood, Chester Whitley II, Peder Mark Golden, Arnold M. Golden III, Louis Guy Golden, John Jay Golden, Edwin Golden, Mario E. Golden Jr., LaMar Golden, Daren J. Golden, Vince Golden, David Golden, Peter Britos, Louis Britos, John Britos, Anthony Britos, Lawrence Spoon, Louis Spoon, Chris Spoon, Dwayne Spoon, Scott LaNear, Laine LaNear, John LaNear, and Louis V. Golden; special friends: Laurene Wallace, Theresa Douglas, Gloria Francis, Vena Henry, Yvonne Johnson, Pam and Roland Benjamin and Auguste Richardson; as well as other relatives and friends too numerous to mention.
Funeral Service will be held at 10 a.m., Monday, Jan. 29, at Holy Cross Catholic Church, Christiansted, St. Croix. Interment follows at the Kingshill Cemetery.
In lieu of flowers, please make a donation in his name to the St. Croix Animal Shelter.
Special thanks to the wonderful ladies at The Turning Point Service Care.