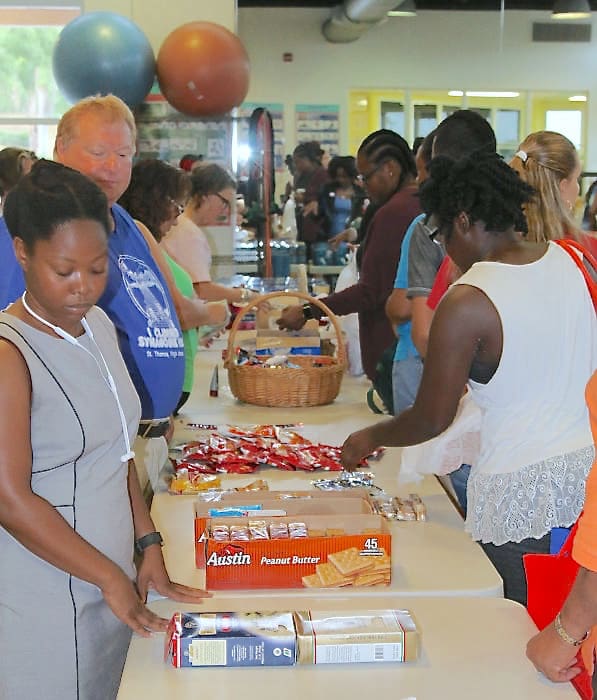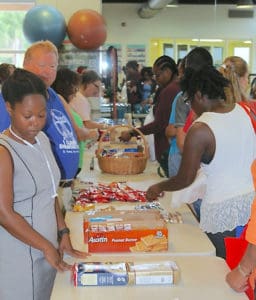 In the aftermath of Hurricanes Irma and Maria, St. Thomas resident Danielle Marie wasn't able to cook at her home, or take a shower. But supplies provided by the Hebrew Congregation, including a propane tank for her kitchen and solar shower, have helped Marie to live more comfortably and on Thursday, she took the time to pay it forward by volunteering at another of the organization's supply distributions at the University of the Virgin Islands.
Thursday's distribution is the fourth on St. Thomas for the Hebrew Congregation, which also has canvassed the Tutu Hi-Rise and Bovoni areas and plans to be in Bordeaux later this week. According to organizers, the Congregation has continued to receive everything from medical supplies to generators from individual donors abroad, along with major donors such as the Jewish Federation of North America and the Israeli government.
"Our synagogue has been an integral part of the community since the 1790's, and since that time, we have played many roles within the community," Rabbi Michael Feshbach said Thursday, as the group and its volunteers manned tables at the UVI Wellness Center. "The island has helped us many times and for the moment, we have been in the position to return the favor."
The Congregation's home base, the historic synagogue in Charlotte Amalie, has been a "beacon" to visitors from around the world, Feshbach added.
"And because they come to visit us when they are on island, we have a vast network that, in hearing about the hurricanes, reached out and asked, how are you and what do you need?" he said.
Concerned about its employees on island who were severely impacted by the storms, Marilyn Braithwaite-Hall, the wife of UVI's president, recently reached out to the Congregation through one of its members, Liza Margolis, senior coordinator of donor relations and special events at the university.
"We all lived through the hurricane together, on campus, we were with the students in the dining halls and in the dorms, and it is just important, more than looking at the just the destruction, to be able to focus on our employees and ways that we can support them," Braithwaite-Hall said. "We have needs here beyond the condition of the campus and its buildings. There are people who need help."
Hebrew Congregation members said that at supply distributions, they have been able to hand out solar showers, propane stoves, battery powered fans, garbage bags, pet food, bug repellant, baby items and water purification systems able to purify up to a million gallons of water – enough to feed as many as 100 people a day, or an entire neighborhood.
"It was just a little bit ago that I was gifted with a generator from the Hebrew Congregation that is now powering four households," volunteer Jeff Burman said Thursday. "Now, I'm here helping to provide the same kind of hope for so many others. It's kind of amazing."