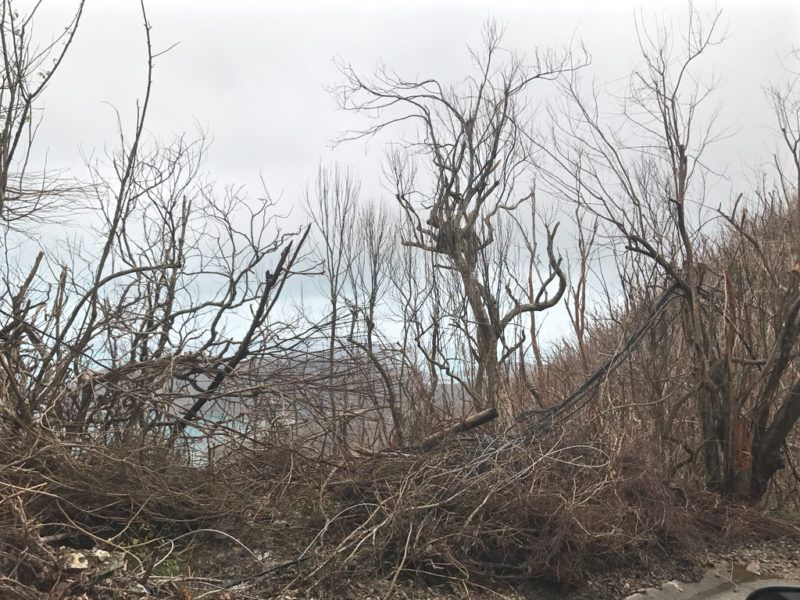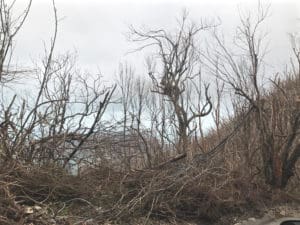 A routine meeting of St. John residents and disaster relief personnel in Cruz Bay on Thursday featured two updates that drew applause: the decision has been made not to burn the island's growing piles of tree and plant debris, and Coral Bay now has its own communications hotspot.
The decision by officials to nix plans to burn St. John's tree debris is a win for environmentalists, who favor a chipping solution they argue will create needed compost and prevent an increase in air pollution.
Meanwhile, the new Coral Bay hotspot, which came online Wednesday at the Town and Country Building across from the Coral Bay Fire Station, is providing free wifi and allowing AT&T and Sprint customers to text and make phone calls. It relieves a near-total communications blackout on the eastern side of St. John that has existed since Hurricane Irma blew down towers on Sept. 6.
Tree Debris Won't be Burned
Residents who attended Thursday's meeting appeared pleased when Capt. Craig Zdaniewicz of the Army Corps of Engineers announced that his agency had received word from the Federal Emergency Management Agency that no plant debris will be burned on St. John.
In cases where the pile-up of disaster debris overwhelms local capabilities, FEMA tasks the Army Corps of Engineers with helping to manage and remove it. The Army Corps estimates that more than 500,000 cubic yards of natural debris alone need to be dealt with in the V.I. after Hurricanes Irma and Maria.
"We are working on a plan for chipping on St. John, and where we're going to put the material," Zdaniewicz said.
The decision not to burn St. John's debris doesn't apply at this time to St. Thomas and St. Croix, according to Zdaniewicz, and there are still internal discussions that need to take place before a plan can be announced for the little island.
Recent debates over whether branches and fallen trees should be incinerated using air curtain destructors, or chipped down for compost, resulted in a flurry of advocacy work by local environmental groups including the St. John-based Island Green Living Association. A town hall meeting on the subject, arranged by Senate President Myron Jackson, was held on St. John on Nov. 6. (See Related Link: "A Burning Question: What To Do With Dead Wood?")
Proponents of burning the debris say the volume to be removed is so large that it must be considered as the quickest option. Those who support chipping say compost will be valuable to the island's recovery, and that adding additional pollutants to an atmosphere already choked with generator exhaust is a health hazard.
In an interview with the Source on Nov. 3, former regional administrator for the Environmental Protection Agency Judith Enck said burning the Virgin Islands' debris instead of chipping and composting would be a mistake.
Enck, who sits on Gov. Kenneth Mapp's V.I. Hurricane and Resiliency Advisory Group, said air curtain destructors were initially used in New York after Hurricane Sandy in 2012. Other methods of debris removal were later adopted when incineration caused air pollution to rise over EPA limits on multiple days.
Coral Bay Hotspot
Rob Tutton, a technology specialist working on post-disaster communications on St. John, said the range of Coral Bay's new hotspot extends from near the Indigo Grill Restaurant to the area of Skinny Legs Bar and Grill.
The location for the hotspot was chosen, in part, due to its ample parking.
Tutton said there are plans to set up more hotspots in Coral Bay, including one at Calabash Boom.
Funding for St. John's public Wi-Fi network has been coordinated by the Global Disaster Immediate Response Team, known by its acronym DIRT. Tutton said the process of getting signal across the island in the aftermath of two category 5 storms has been as complicated as it sounds. He described the process as involving the "Frankenstein-ing" of equipment, often set up in private homes converted into broadcasting stations.
"It's like building a city road system and highway system while people are driving on it," Tutton said.
The last broadcasting station established was set up in a rental home on Bordeaux Mountain, which has allowed signal to reach Coral Bay. The stations are running off of solar power and backup battery systems.
Tutton added that communications in Coral Bay may remain unreliable for the next week while St. John's information technology professionals fine tune the network. But since internet access in 2017 is considered by many as more necessity than convenience, Tutton has seen emotional responses to Wi-Fi coming to Coral Bay.
"I told a woman to check her phone and that internet is now working, and she looked at me like I was crazy," Tutton said. "I said 'no ma'am, we just turned it on.' She switched on her phone, text messages started coming in and she literally started crying."
FEMA Update
Also at Thursday's meeting, FEMA representatives announced that a program was approved for the territory that will allow some residents to qualify for direct construction help through the agency.
FEMA's Permanent Housing Construction program, which is generally only approved for islands or other remote locations, allows for the federal agency to offer materials and construction assistance instead of just grants. That assistance is available to individuals whose homes were not destroyed but suffered more than $17,000 in damage.
FEMA representatives said applicants who are eligible for the Permanent Housing Construction Program will be contacted in the coming weeks, while those whose homes suffered less than $17,000 in damage will begin to see their grant monies distributed. So far, grants distributed by FEMA have only covered immediate needs like rent for the displaced.
The decreasing frequency of Cruz Bay's recovery update meetings, which have been held since September at the V.I. National Park Visitor's Center, can itself be seen as a sign of progress. In the storms' immediate aftermath the meetings were held daily; then three times per week, and then twice weekly.
Starting next week, meetings will only be held once per week, at 7:30 a.m. Wednesdays at the visitor's center.