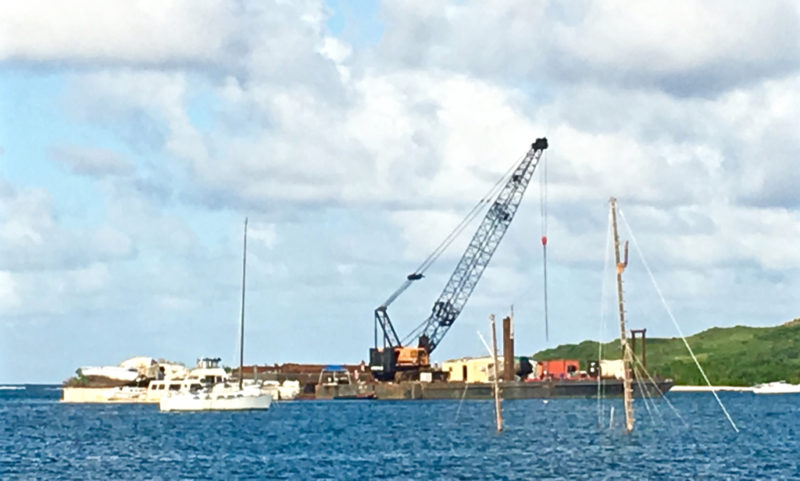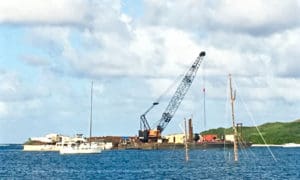 The U.S. Coast Guard has been working alongside Department of Planning and Natural Resources and other agencies to complete the safe removal of the sunken vessels in Salt River Bay. Similar operations are being conducted throughout the territory utilizing available Federal Emergency Management Agency funds.
According to Coast Guard Lt. Cmdr. Bonnie Shaner, as of Wednesday, nine vessels had been removed from Salt River Bay, and 68 still need to be salvaged. The salvaged vessels are either returned to their owners or disposed of if the owners have waived their rights.
During the first few days of the operation, two to six vessels were removed per day. Although the Coast Guard is working to identify the owners, if the owners have not been identified by Dec. 1, DPNR can have the unclaimed vessels declared marine debris and begin major salvage operations to remove them.
"The Coast Guard's role is to provide technical expertise and oversight of vessel salvage operations," Shaner said.
The team responsible for collaborating on and executing the safe removal of the vessels includes the Coast Guard, along with representatives from DPNR, which is leading the project, the U.S. Army Corps of Engineers, the National Oceanic Atmospheric Administration, the U.S. Fish and Wildlife and the Environmental Protection Agency.
There are challenges to protecting the bay while removing the vessels, Shaner noted.
"We are coordinating all operations in conjunction with DPNR, NOAA, USFW and EPA to ensure all environmental concerns are addressed in USVI waters," Shaner said. "Best management practices to protect environmentally sensitive areas and endangered or protected species are implemented and are used for all ESF-10 operations."
The EPA has representatives on-site and is responsible for the safe removal and disposal of fuel and other hazardous items that were on the ships, such as batteries. NOAA coral specialists are involved in planning the removal of vessels impacting Long Reef.
The time and complexity of each removal varies. When the salvage operation begins after the Dec. 1 deadline, vessels likely will be removed more quickly. USACE manages the temporary staging area for the salvaged vessels which is located in Christiansted Bay, as well as disposal.