The Estate Tutu Apartments were profoundly damaged during Hurricane Irma last week and its residents will have to be moved to other locations in the coming weeks, Gov. Kenneth Mapp said during his hurricane recovery update Thursday evening.
Mapp said he went to the Tutu Housing community on one of his recent tours and of some 285 families living there, about 160 are living in shelters. The rest are still living there for now.
"It was really heartbreaking to see," Mapp said. The walls were blown out "like matchboxes," and one of the territory's four confirmed storm fatalities was a woman resident of Tutu, he said.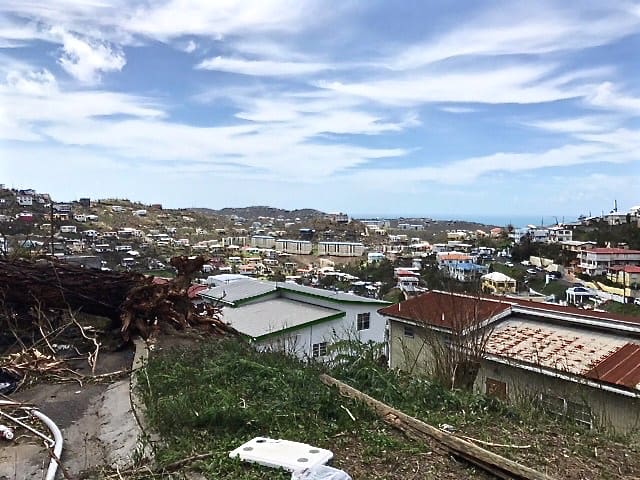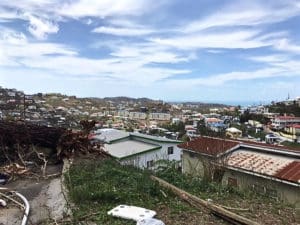 Mapp said he had conversations with V.I. Housing Authorithy Director Robert Graham and U.S. Housing and Urban Development Regional Administrator Denise Cleveland-Leggett and the decision was made that they "have to get all the residents out of there as soon as possible."
Some – those with families on the mainland – will be encouraged to go there. And there are about 100 support vouchers to find housing in the private stock of rentals in the territory, Mapp said. There may be some units available on St. Croix too, he added.
Friday, the V.I. Housing Authority will send notices asking owners to let them know if they have available units, he said.
Those in public housing have been among the hardest hit by the damage – and among those with fewer resources on hand to rebuild or relocate. Tutu, like most USVI public housing, is funded by HUD.
The Source reached out to HUD Supervisory Public Affairs Specialist Brian Sullivan on Thursday to find out what HUD's role in finding housing for those in HUD funded housing that is damaged.
FEMA plays the main role in the beginning of the process, Sullivan said. He urged everyone in public housing in particular and everyone in need due to the hurricane, to immediately register with FEMA for assistance.
"One thing people ought to be doing is registering with FEMA right now," Sullivan said. "That way it gets them into the system. And, at least from a federal point of view, federal agencies begin to intercede – whether with hotels or cash to buy food. … That's why its there. Most especially for the most vulnerable," he said. People can register by calling call 1-800 621-3362 or online at www.disasterassistance.gov.
At Mapp's update Thursday, FEMA Region II Coordinator William Vogel said 1,872 people in the Virgin Islands have registered to date for individual assistance using the website or phone number.
Direct HUD assistance will occur over time.
"We recognize after a storm like this everybody gets hurt," he said. "We are trying to connect everyone we can with housing and that is difficult when so much housing is destroyed or damaged," he added, referring to the widespread impact of hurricanes Irma and Harvey.
HUD has a Disaster Housing Assistance Program which gives out temporary housing vouchers, but Sullivan said he was not certain exactly how that would affect the U.S. Virgin Islands situation.
First, they will look for nearby housing, then housing still within the Virgin Islands. The worst case scenario, if there is not enough local housing some may end up moving elsewhere, Sullivan said.
"People don't want to leave their home. Certainly not their home town. But after Hurricane Katrina (in 2005) that's exactly what happened, in order even on a temporary basis to rehouse people," he said.
No new official census figures are available. But school enrollment is tied to population. In 2011, Education officials reported 7,803 students were enrolled in public schools on St. Croix, versus 8,898 in 2010. In 2016, Education officials reported 6,301 students enrolled on St. Croix – a reduction of 1,500. That tends to support the idea there may be a higher than usual level of empty housing on St. Croix.
Mapp also said hurricane relief supplies were increasing.
Vogel reported that 582,000 meals; 13,000 protective sheets; and 30 generators have been distributed and another 903,000 meals are being offloaded now.
VITEMA Director Mona Barnes announces the opening of two additional distribution points for aid supplies and said allotments are increased to one case of meals ready to eat and one case of water for every person who comes up.
Food Stamp allotment will be replenished automatically for recipients who lost power for four hours or more. WAPA has certified outage duration, so no application is necessary.
Police Commissioner Delroy Richards reported increased police and National Guard numbers on St. John, and anticipates additional law enforcement resources from the mainland.
Health officials said they were ramping up mosquito eradication efforts and Mapp said pharmaceutical supplies had come in and some area pharmacies were being stocked.