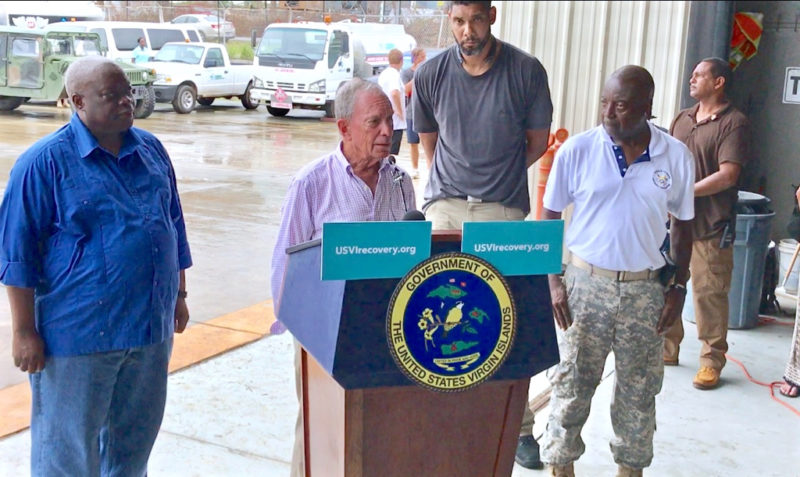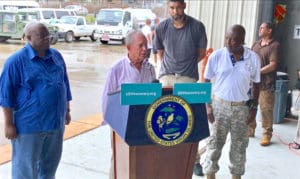 The combined resources of the local and federal governments along with private contributions, will help get the territory through its ongoing recovery efforts but Gov. Kenneth Mapp cautioned Thursday that the road forward is not a sprint but a "long haul."
During a brief news conference at the St. Thomas Jet Center, Mapp was flanked by former San Antonio Spurs forward Tim Duncan and former New York City Mayor Michael Bloomberg, who have amassed a combined $5 million in supplies and technical relief for the islands.
Bloomberg reassured residents that the supplies – including a carload of life saving medicine brought in from Johns Hopkins in New York – and aid needed is coming in and said that while the road ahead would be "hard," getting back up is "doable."
"There is a lot of optimism coming from the people," Bloomberg said. "Everyone I've talked to said that they're staying, that they are going to rebuild and that the best days are yet to come."
Bloomberg was brought into the relief efforts by a personal friend on St. John, who he said called him after Irma struck and asked him to come down. No stranger to natural disasters – he was mayor of New York when that city was struck by Hurricane Sandy in 2012 – Bloomberg is part of a "structured" organization of private benefactors who help with disaster relief, according to Government House spokesman Sam Topp.
"We had big hurricanes in Florida, Miami and Texas, but this is part of America and we wanted to make sure people didn't forget that there was another part of this country that was struck a by deadly hurricane and the damage here is just unimaginable," Bloomberg said.
Despite the landscape, with torn roofs, demolished buildings and bare trees, both Bloomberg and Duncan said that they were encouraged by the spirit of the community, whose members continue to help one another.
"People are helping one another with positive attitudes, and they're ready to rebuild," Duncan said. "We are also going to stay here and help, bringing supplies, and contribute where we can."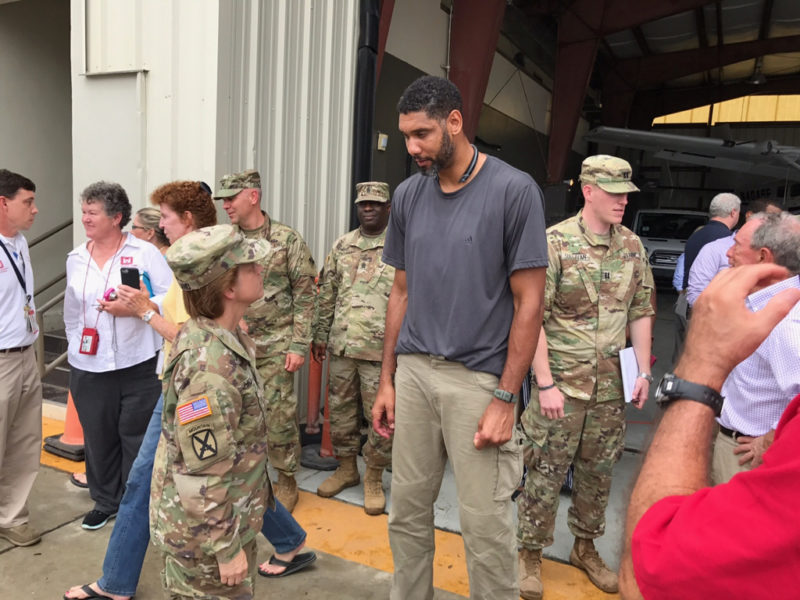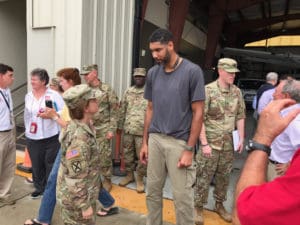 Duncan made an impassioned plea to the media after the hurricane hit, and opened a YouCaring account with a $250,000 contribution and a pledge to match donations up to $1 million. Shortly after the account was set up, the website said the fundraising bar had been raised to $2.1 million, but Topp could not say what the split was between the amount of funds donated and the value of supplies brought in.
Thanking both Bloomberg and Duncan for their help, Mapp also took the time, with many national news reporters in the Jet Center hanger, to clarify reports of vandalism and looting that have played in the national media headlines for the past week. Mapp said it is understandable that residents would be frightened, particularly on St. John which was the worst hit of the three islands, but that formal reports of break-ins, burglaries or thefts were minimal. In addition, Mapp said that more military officers, National Guardsmen and others – including Marines on St. John – have been posted around the islands, while officers and troops from New York and Alabama are expected to begin arriving on Saturday.
Mapp also encouraged anyone interested in donating to local relief efforts to visit usvirecovery.org The governor added that he was encouraged that U.S. President Donald Trump would soon be arriving to "observe" the damage first hand, and to survey federal relief efforts.