Packing winds of 185 miles an hour as of 5 p.m. Tuesday Hurricane Irma was about 12 to 18 hours from its closest approach to the U.S. Virgin Islands, according to the National Hurricane Center.
Irma is only the fifth Atlantic basin hurricane with a peak wind speed of 160 knots (nautical miles per hour, or 185 mph) or higher. The others were Hurricane Allen in 1980, the Labor Day Hurricane of 1935, Hurricane Gilbert in 1988, and Wilma in 2005.
The minimum pressure in the hurricane's eye measured by a sonde dropped by a U.S. Air Force Reserve plane, was 926 mb.
"Irma is a potentially catastrophic category 5 hurricane and will bring life-threatening wind, storm surge, and rainfall hazards to portions of the northeastern Leeward Islands tonight and tomorrow," the NHC said in its 5 p.m. discussion, "These hazards will spread into the Virgin Islands and Puerto Rico (Wednesday morning.) Preparations should be rushed to completion before the arrival of tropical-storm force winds tomorrow morning in the Virgin Islands and Puerto Rico."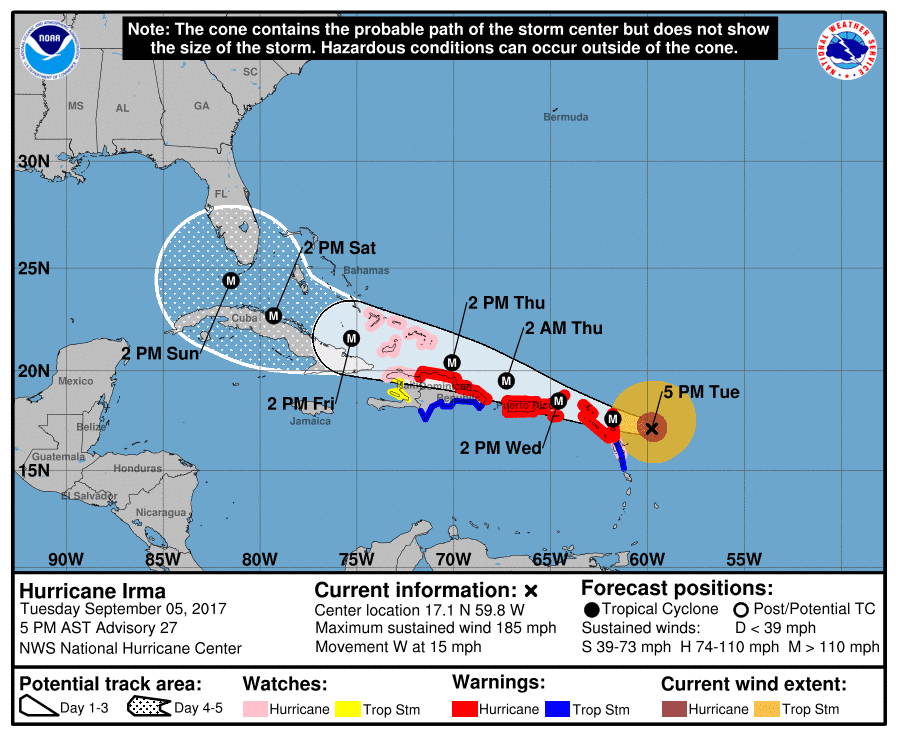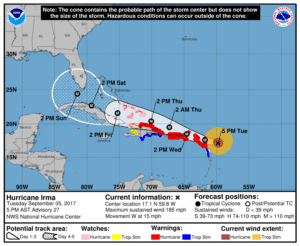 Despite some conditions that may cause the storm's intensity to fluctuate, the NHC's forecasters predicted, increasing upper-ocean heat content and a very favorable upper-level pattern are expected to allow Irma to remain a category 4 or 5 hurricane during the next several days.
Though the storm is headed through the Antilles, there's a good chance it won't actually come ashore on the islands. Fixes from the latest satellite and radar imagery suggest that Irma is moving a little north of due west. A strong ridge extending southwestward from the central Atlantic is expected to steer Irma west-northwestward during the next couple of days.
However, even a relatively near pass could subject the islands to tropical storm force winds (60-plus mph) or stronger, along with plenty of rain.