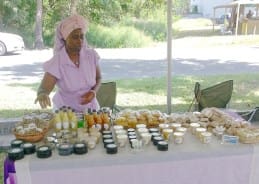 High-grade fresh, local honey, bee pollen, soaps and more will be on display and sale at the third annual "Beekeepers' Buzzaar," Saturday, Sept. 23, across from the Agriculture Department and fair grounds on Queen Mary Highway on St. Croix.  The "Buzzaar" will be held from 10 a.m. to 4 p.m. This year beekeepers will have honey, honey-based salad dressings, mead or honey wine, honey vinegar, lotions, lip balms, candies, candles, bees wax, bee pollen, and soaps. Beekeepers will give educational presentations on safety, and there will be a question and answer station for children and prizes. Beekeeping products, equipment and safety gear will be on display and workshops will be conducted throughout the day.
This is the seventh "Buzzaar."
"Since 2011 there has been a steady rise in the number of persons engaged in beekeeping activities in the territory.  Local honey and other bee products are more readily available for purchase; So the event is a good way to highlight beekeepers and this growing aspect of the agriculture sector," Agriculture Commissioner, Carlos Robles said in a statement Monday.
The annual activity is also intended to heighten the awareness of the importance and benefits of bees. Bees are an essential part of our life as they are responsible for pollinating many of the fruits and vegetables we consume.  These include almonds, apples, avocado, berries, cantaloupes, citrus, coconut, cucumbers, guava, kenep, papaya, squashes, and watermelon.
In addition to honey and pollination, other beneficial products derived from honey bees include pollen, royal jelly, and wax.  Robles said "a healthy beekeeping industry is invaluable to a healthy agricultural economy."