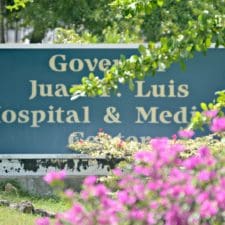 The Virgin Islands Department of Agriculture (VIDOA) will partner with the Juan F. Luis Hospital and Medical Center to form the "Farm to Hospital Program" (FTH) to facilitate and promote the sale of Virgin Islands' grown farm products to hospitals and institutions under the jurisdiction of the hospital to promote healthy living and to foster a healthy food environment, according to a press release issued Monday by VIDOA.
FTH will seek to establish a formal supply chain relationship between local farms and Juan F. Luis Hospital (JFL) for the benefit of both entities. JFL will benefit by upholding the common mission of many hospitals, which is to: 1) promote healthy living, 2) provide a model from which patients may learn, and 3) foster a healthy food environment. Farmers will benefit because FTH will create an alternative marketing channel for their products and generate extra revenue, while serving as a contributing factor to the local economy.
VIDOA and JFL will jointly host a meet and greet to publicly announce the new initiative and to formally sign a memorandum of understanding (MOM), which delineates each agency's responsibilities for this project. The public is invited to celebrate the joint venture between the two agencies while promoting healthy eating within the healthcare system. The meet and greet will be held from 6-8 p.m., Wednesday, Aug. 23, at the Bennie and Martha Benjamin Foundation Conference Center, Room 1, Virgin Islands Cardiac Center.