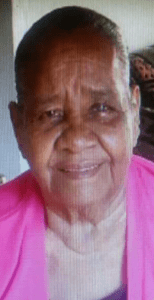 Raquel Rivera died on Monday, Aug. 7. She was 84 years old.
She is survived by her companion, Santiago Herrera; daughters: Olga Santiago, Maria de Lourdes Ramirez and Nitza Iris James; sons: Luis Manuel Rivera and Raphael Rivera; grandchildren: Yolanda Curly, Marisela Webster, Felit Charles, Ada Liz Melendez, Vanessa Dowling, Tomas Melendez, Kidany Rivera, Yamiris Betancourt, Shellian Andrews, Raquel Perez, Danny Rivera and Anthony Berrios; and nieces: Maria Elisa Ortiz, Carmen Ortiz, Melissa and Debora.
She is also survived by nephews: Anselmo Ortiz, Jose Ortiz, Efrain Ortiz, Luis Daniel, Luis Perez and Martin (Carmen) Mendez; daughters-in-law: Marisol Rivera, Cruz Santiago and Hortensia Charles; sons-in-law: Guido Ramirez, Raymond James and Shawn Webster Sr.; special friends: Diana Rivera, Fini, Carmen Montez, Milda Mendez, Maria Ortiz, Ada James and Malta De Jesus; as well as other relatives and friends too numerous to mention.
There will be a viewing from 3-5 p.m., Friday, Aug. 25, at James Memorial Funeral Home.
A second viewing will be held at 9 a.m. followed by a funeral service at 10 a.m. on Saturday, Aug. 26, at James Memorial Funeral Home Chapel. Interment will be at Kingshill Cemetery.