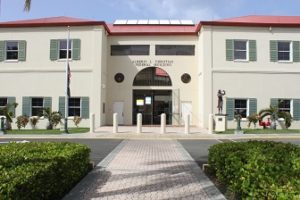 Three admitted members of a multi state drug trafficking ring were sentenced to federal prison Monday. Pre sentencing reports given to District Court Judge Curtis Gomez said two of the three defendants were first-time offenders.
Defendants Rasheem Morton, 36, Taheeda George, 37, and Monique David, 40, were initially charged with drug trafficking and for being part of a drug conspiracy. But on sentencing day prosecutors said Morton, George and David were not drug dealers.
Rasheed Morton, brother of alleged ringleader Nilda Morton, and David received 30 to 37 months in prison. Gomez accepted the recommendation of the U.S. Attorney's Office and gave George a 30-month prison term.
Assistant Attorney General Delia Smith said the three were identified as part of a four-state drug trafficking ring that was so well orchestrated, individual members had specific roles to play.
The three sentenced Monday acted as cash couriers, pleading guilty to money laundering.
George was one of the first members of the conspiracy, taken into custody on July 1, 2016. Investigators said she was one of three people who met admitted drug courier Dellanna Magner as she carried six packets of cocaine into Miami International Airport on a flight arriving from St. Thomas.
According to the plea agreements filed in January, the conspiracy operated between October 2015 and July 2016.
"Nilda Morton, the leader of the drug trafficking organization, supplied cocaine to Vanier Murraine utilizing Delta Airlines employees Taheeda George and Roniqua Hart," said a statement from the U.S. Justice Department.
"The Delta employees then used their security clearances at the Cyril E. King Airport to smuggle cocaine to Dellana Magner, Kanya Tirado, Kinia Blyden and Jerrisha Rawlins after they had completed their pre-boarding security clearances, but before they boarded their commercial flights to the U.S. mainland."
Alex Omar Rosa-Ambert, attorney for Morton, said the things prosecutors accused his client of were not true and they picked the wrong man. At sentencing Gomez noted that Morton had two previous touches with the law. One had him facing a murder charge which was later dropped, the judge said.
Federal Public Defender Omodare Jupiter described George as a college student and citizen soldier who was motivated by a chance to pay her tuition at the University of the Virgin Islands.The defendant apologized to the court and to her family for letting them down prior to hearing her fate.
Financial pressures were also said to be at the root of David's involvement, said defense attorney John Benham. "But that is no excuse. She accepts responsibility for her actions," Benham said.
Co-conspirators who have already faced sentencing include Nilda Morton, who received 97 months in prison; Vanier Murraine — 57 months and Magner, 60 months.
Thirteen defendants entered guilty pleas and have been sentenced or have dates for sentencing. The one defendant that stood trial and was convicted, Tirado, was supposed to appear for sentencing on June 28. That hearing has been re-scheduled for July 12