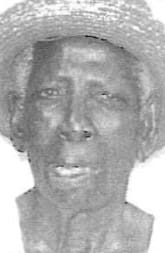 Juliene George of D. Hamilton Jackson Terrace died June 10. She was 94 years old.
She was preceded in death by her sons: Nicholas George and Felix George; grandson, Trevor Pinel; and great-grandchild, D'nor Joseph.
She is survived by a daughter, Mary George; grandchildren: Luciana Flavius, Petra George-Clement, Sophia Pinel, Tony Robert George, Victor Pinel, Linus Trevor Joseph, Sylvia Joseph-Mathurin and Henry Henry; great- grandchildren: Kevin Satney, Barry George, Tafarah Remy, Elizabeth Pinel, Kisha Lang, Tamara Edward, Randy Theodille, Derick, D' Andre and Julius George, Amber St. Brice, Sylvester St. Brice, Casey Pinel, Shanoy and Valentine Clement, Shawnette, Jermill, Jerlissa and Jernius Joseph; and nieces: Clarita Jules of St. Lucia, Barbie Blades, Christine Blades-Esnard, and the Sempry and Jean families of Soufriere, St. Lucia.
She is also survived by great-great-grandchildren: Saqqarah, Daisy, Jahzair, Jahniya, Neyala, Tan J, Ja'Hilee, Tanisha, Nina, Riley, Raelynn, Shaheem, and Hayden; nephews: Bobot Blades of Canada and Francis Alexander of St. Lucia; great-granddaughter-in-law, Francis Joseph; great-grandsons-in-law Zacharius Clement, Sonson Flavius and John Mathurin; special friends: David Joseph and Angelina Felix; cousins and other relatives to include Joseph Moses, the St. Prix family, the Alcindor family of St. Lucia, New York, Canada, St. Thomas, St. John and St. Croix; as well as other relatives, family and friends too numerous to mention.
A viewing will take place at 10 a.m. and a funeral service at 10:30 a.m. on Friday, June 30, at Holy Cross Catholic Church. Burial will follow at Kingshill Cemetery.