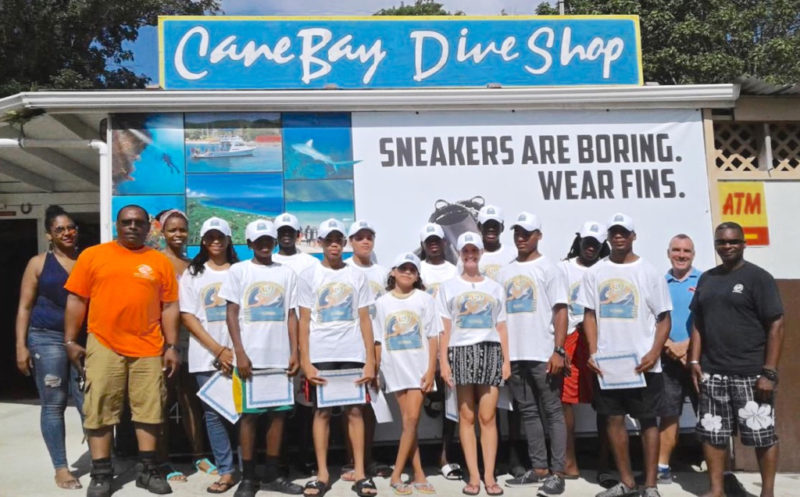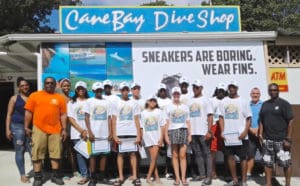 A dozen young Crucians were certified for open water scuba diving recently, with a little help from the St. Croix Boys and Girls Club.
Junior Scientists in the Sea, a non-profit organization reaching out to students with a passion for diving, research, engineering and exciting hands-on activities, provided the training. The organization aims to expose youth to a meaningful, educational program combined with on the job training, hard work, cultural understanding and fun.
The dive training and certification will help the young men and women be involved with the Slave Wrecks Project on St. Croix. Next up this summer is a week of terrestrial archaeology field school at the historic Little Princess plantation site, the location of the campus of the Nature Conservancy Caribbean Program on St. Croix. Students will learn the fundamentals of field archaeology. The field school will be hosted by the Society of Black Archaeologists, which studies and preserves African and African diaspora material culture, and promotes more people of African descent to enter the field of archaeology.
The following this week the students will engage in both maritime conservation and training. The newly certified divers will engage in underwater activities as they learn from master divers about coral reef restoration and some fundamentals of mapping shipwreck sites. Training will be conducted by Junior Scientists in the Sea and Diving with a Purpose, a community-focused nonprofit dedicated to the conservation and protection of submerged heritage resources by providing education, training, certification, and field experience to adults and youth in the subjects of maritime archaeology and ocean conservation.
The certification and summer activities complement a continuing range of research, community engagement, and educational activities by the Slave Wrecks Project – a broad network of individuals and organizations hosted by the Smithsonian Institution's National Museum of African American History and Culture and involving the National Park Service, the University of the Virgin Islands, George Washington University and others to help understand the history and enduring legacies of the slave trade and struggles for freedom.