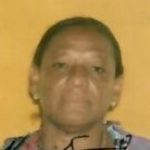 Ernestine Sarita Lenhardt Richards, also known as "Titta" or "Mama," of Estate Two Brothers, Frederiksted, St. Croix, died on June 2. She was 83 years old.
She was preceded in death by her sons: Wayne A. "Parents" Hodge and Clayton G. "Askia" Richards; nephews: Adelbert E.M. Bryan, Kaunda "Fufi" Bryan, Kai K. Oliver and Lauriel E. Oliver, Jr.; and special cousin, Claudette P. Hart.
She is survived by her daughter, Bernadette L. Richards; sons: Usie Raymond Richards and Theron "Ronnie" Richards; grandchildren: Théo M. Todman, Yusuf Hodge, Edecia Hodge, Amaraé Blyden-Richards, Nneka Henry-Richards, Nailah Henry-Richards, Askia C.W. Richards, Bandele Richards, Marcus Richards, Askia Umi Richards and Shaleequa Richards; great-grandchildren: DeAnthony Bailey-Hodge, Micah Elise Blyden-Wheatley, Kane Richards, Akia Richards, Anilah Melendez and Angel O. Melendez; daughters-in-law: Georgene Cooper Hodge, Beverly C. Henry-Richards and Juanita Iles Richards; and brother, Adelbert M. "Bert" Bryan.
She is also survived by sisters: Lurine Lenhardt O'Bryan, Pauline E. Bryan, Norma Bryan Richards, Lomist Bryan Limbacker and Anna Bryan Oliver; sister-in-law, Jerilyn O. Bryan; nieces and nephews: Rupert W. O'Bryan III, Garrett O'Bryan, Hannibal H. O'Bryan Esq., Diren D. O'Bryan, Elston Richards, Leah Richards, Thresa Richards, Gia Richards, Lothrop Richards Jr., Lori L.L. Bryan, Andrea A.A. Bryan-McIntosh, Lyrhea L.L. Bryan-Heyliger, Lecia L.L. Bryan-Ventura, Mia M.M. Bryan-Baker, Nikki Bryan-Thomas, Keala S. Knox-Limbacker, Col. Kodjo S. Knox-Limbacker (U.S. Army), Kamilah S. Limbacker, and Arianne A. Oliver; and special cousins: Lauritz Petersen Jr., Myrtle P. Court, Corlette P. Pilgrim, Mable P. Melchior, Roselyn P. Ford and Noelene P. Christian.
Other survivors include special friends: Doris Brown, Clifford Christian, Aloma Dossett, Maude Dowdy, Dwayne "Masik" Fergus, Clarissa Messer-Petersen, Annette O'Neal, Alfreda Ovesen, Myrtle Richards, David Benjamin, Ghirton Hector, Josephine Hector, Calvin Lang and other graduates of the Christiansted High School Class of 1951, the Henry and Iles families, AARP of St. Croix, as well as staff and members of the Department of Human Services Senior Citizens Center and the American Legion Bromley Berkeley Auxiliary Post 133; and relatives: the Lenhardt, Bryan, Samuel, Williams, Simon, Simmonds and Miller families and the family of Genevieve Edney.
Special thanks to the staff of Herbert Grigg Home for the Aged, the staff of Continuum Care Inc., Dr. A. Lake, Dr. A. Prasad and Angelina Santiago.
Tributes will begin at 9 a.m. followed by a funeral service at 10 a.m. on Thursday, June 22, at St. Paul's Anglican Church, Frederiksted, St. Croix. Interment will follow at Frederiksted Cemetery.