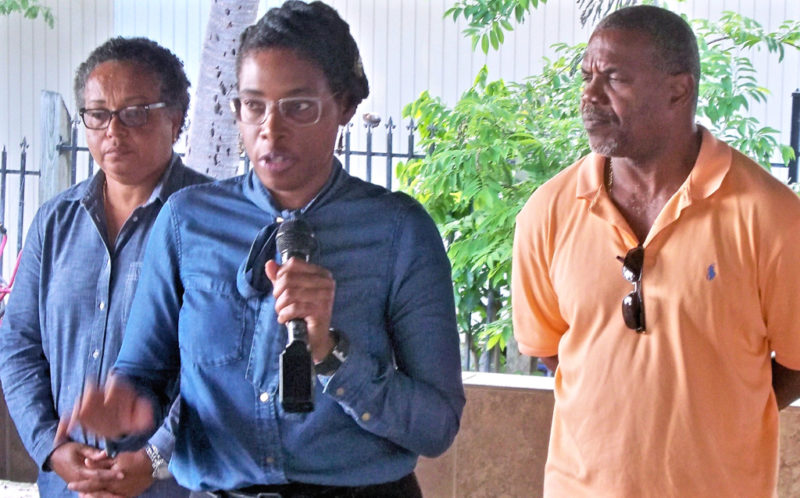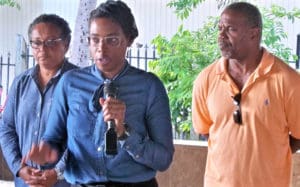 Mistakes have been made in recent renovations to Albert Edwards Fish Market in Frederiksted, and Commissioner Dawn L. Henry, of the Department of Planning and Natural Resources (DPNR), doesn't want to repeat them.
Henry said Wednesday's town hall meeting, sponsored by DPNR and Division of Fish and Wildlife, was her third visit to the fish market to get input. She addressed issues of the market having no water or proper drainage and with tables whose tile tops were easily damaged.
The dozen residents attending did not oppose her suggestions, but some questioned whether the government was committed to making the appropriate changes.
Community activist Virginia Clairmont persisted in asking when the renovations would take place. She said she didn't want to hear about another "ball park" project," referring to new ball park that has been promised in Frederiksted for years but has not happened.
Henry said she could not give a specific date for the project to begin or being completed because of an issue raised by fishers again – whether to have fresh water or salt water piped into the market.
Henry pointed out the problem with having fresh water pumped in the market at the end of the fisher pier. She said that the Water and Power Authority did not know where the meter was located for its water going to the market, adding that DPNR was looking into connecting to the water that went to the bathrooms maintained by Sports, Parks and Recreation. She also said DPNR was looking into ways to control how that water was used – like putting a timer on it and making spigots so low that the buckets could not be put under them.
In the past, she said, "Water was used for everything, but for which it was intended. The government cannot afford to pay for that."
One of the anglers said the problem with water use was hard one.
"No matter what you do, people are going to come here to wash their cars," he said.
For that reason he suggested that salt water be piped in. At an earlier meeting, some had maintained that fish cleaned using salt water taste better.
Henry said that if that is what the fishers wanted, DPNR would precede that way.
However, Norman Williams, director of Environmental Protection, pointed out that using salt water – putting intake pipes in the sea and letting runoff return to the sea – was a complicated procedure that could take more than six months of permit process. People in the crowd were heard to say "for the long term benefit it would be worth it."
Judith Gomez, director of Fish and Wildlife, addressed the issue of the tile tops for fish cleaning areas. She said they would be replacing them with PVC material, the material used for cutting boards.
Henry said, "We want to provide an environment where people know they can come and buy fish and you can make money."
Gomez said, "We want to give you a full functioning fish market that you can use."
An audience member suggested that the government hire a person to care for the market. Henry responded, "We can't think the government is going to police the day-to-day activities of the market."
This inspired Dawn Bruce, representing the governor's office, to say, "This community belongs to all of us. All of us need to look out for each other." She condemned the vandalism that wrecked the nearby bathrooms. Her speech earned the only applause of the afternoon.