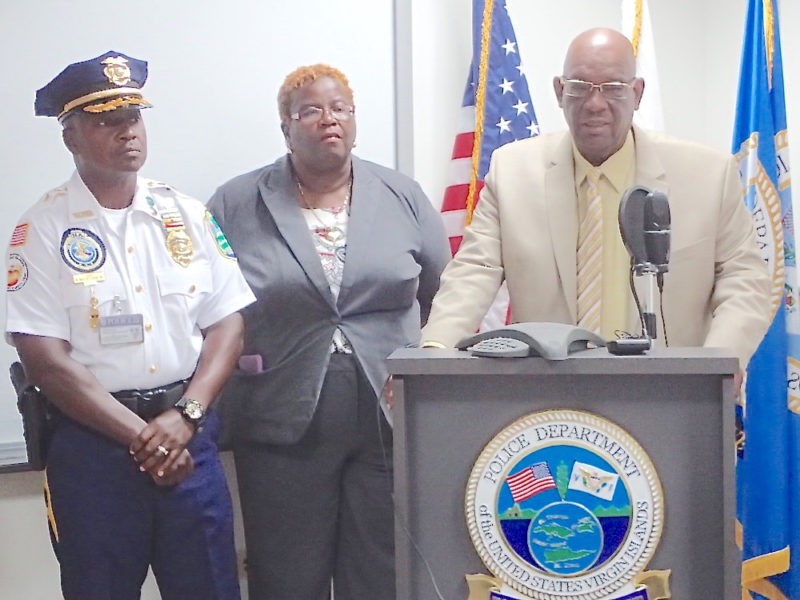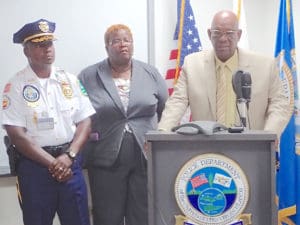 In response to a "vicious sexual assault," $40,000 has been donated for information leading to an arrest in Saturday's rape and carjacking of two young St. Croix woman, Police Commissioner Delroy Richards, Sr. announced Wednesday at a news conference at the Wilbur H. Francis Command in Frederiksted.
"This department is committed to moving this investigation into high gear and we're going to apprehend those perpetrators involved in this case," Richards said.
Richard said he contacted the Federal Bureau of Investigation, which agreed to help investigate and provide technical assistance in partnership with the V.I Police Department.
The young woman – Richards declined to give her age, but acquaintances say she is a teenager – was traveling with a friend on St. Croix's Eastern Road when their car was reared-ended by a white truck. According to Richards, the women stopped to investigate the accident, and the victim was taken to another location and assaulted by three males, who were armed with a handgun. The second girl escaped and called 911, according to police records.
The victim was taken to the Juan F. Luis Memorial Hospital and a rape kit was administered. Lt. Naomi Joseph, chief investigator, said the results of the examination will be sent in for DNA analysis once a suspect has been arrested. The test will be able to determine the DNA for each of three perpetrators, if necessary.
The white truck, which was reported stolen, is in police custody, Richards said, and the owner has been identified and interviewed. The three suspects were between the ages of 20 and 30 and range from light to dark skin, he said.
Attending the press conference were Richards, Joseph, Police Chief Winsbut McFarlande, Lesley Webb, victims advocate for the VIPD, and Laurie Dunton, chairperson of Crime Stoppers VI.
While announcing the $40,000 reward, Dunton said that any information might be important and advised residents to call Crime Stoppers at 800-222-8477 or report a tip on line at www.crimestopersvi.org.
"If you have information you think might be pertinent or if you're not sure, you should still submit a tip or call 911, or report it to a law enforcement officer. But don't sit on it," Dunton said.
St. Thomas has experienced several rapes recently and $10,000 was donated as a reward, also through Crime Stoppers VI, she said.
Citizen participation has been high, with daily calls about the crime, Richards said. He thanked his officers for their diligence in the investigation and also encouraged citizens to come forward with information.